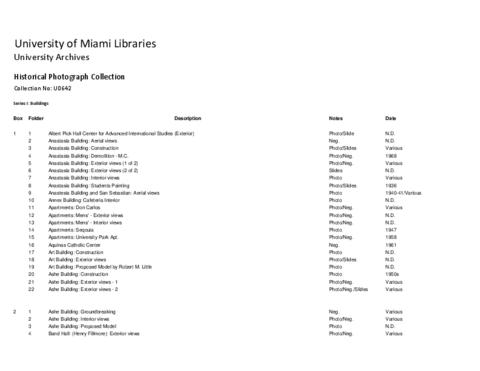 Elementos de identidad
Código de referencia
ASU0642
Nombre y localización del repositorio
Nivel de descripción
Colección
Título
University of Miami historical photograph collection
Nombre del productor
Historia administrativa
Founded in 1925, the University of Miami is a private research university with more than 15,000 students from around the world. It comprises 12 schools and colleges serving undergraduate and graduate students in more than 180 majors and programs.
Área de contenido y estructura
Alcance y contenido
The Historical Photograph Collection holds over 500,000 photographs, negatives, and slides that document the University's growth from 1920s through the presidency of Henry King Stanford in 1970s.  Especially rich are images of UM sports, the expansion of each campus, student life, and special events such as commencement ceremonies.
The collection is processed to the folder level.  See the arrangement section for the ten major subject categories in the collection.  For further details see the finding aid in the container list in PDF for the 4,000 subcategories from "Albert Pick Hall Center for Advanced International Studies" to "Trustees."
Patrons can browse approximately 8,000 images from the collection or research them by subject and keyword at the website below.  The images available at the site are in lower quality, but publication-ready high quality images are also available at additional cost.
https://merrick.library.miami.edu/digitalprojects/photographs.php
Sistema de arreglo
The collection is organized by the following categories:
Series I: Buildings and Grounds
Series II: Athletics
Series III: Student Organizations and Activities
Series IV: Events
Series V: Students
Series VI: Colleges, Institutions, Schools
Series VII: Administrators, Deans, Faculty, and Presidents
Series VIII: Administrative and Other Service Organizations
Series IX: Alumni and Other Support Organizations
Series X: Miscellaneous Photos
Condiciones de acceso y uso de los elementos
Condiciones de acceso
The collection is open to the public.
Condiciones
The University of Miami owns the rights of the images.
Escritura(s) de los documentos
Notas sobre las lenguas y escrituras
Instrumentos de descripción
Generated finding aid
Elementos de adquisición y valoración
Valoración, selección y eliminación
Elementos de material relacionado
Existencia y localización de originales
Existencia y localización de copias
Unidades de descripción relacionadas.
Descripciones relacionadas
Elemento notas
Identificador/es alternativo(os)
Área de control de la descripción
Puntos de acceso
Puntos de acceso por materia
Puntos de acceso por lugar
Puntos de acceso por autoridad
Tipo de puntos de acceso
Objeto digital metadatos
Nombre del archivo
asu0642CL.pdf
Mime-type
application/pdf
Tamaño del archivo
1.5 MiB
Cargado
18 de mayo de 2018 16:11
Objeto digital (Ejemplar original), área de permisos
Objeto digital (Referencia), área de permisos
Objeto digital (Miniatura), área de permisos