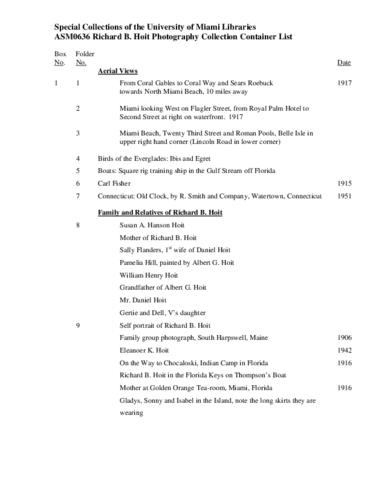 Elementos de identidad
Código de referencia
ASM0636
Nombre y localización del repositorio
Nivel de descripción
Colección
Título
Richard B. Hoit Photograph collection
Fecha(s)
1834-1973 (Creación)
1834-1973 (Creación)
Área de contenido y estructura
Alcance y contenido
Photographer Richard Hoit came to Miami in 1914 when he was 27. Already an experienced movie and aerial photographer, his collection of photographs includes landscapes from diverse regions including Massachusetts, Vermont and Florida in the United States. In addition, Hoit traveled extensively in South America in the early nineteen hundreds. The images resulting from these travels are of people and scenery from Bolivia, Chile, Colombia, Ecuador, Mexico and Peru. Finally, the Richard Hoit Collection contains Hoit family photographs that span the period 1834 through 1973.
Condiciones de acceso y uso de los elementos
Condiciones de acceso
This collection is open for research.
Condiciones
Richard B. Hoit Photograph Collection Finding Aid © 2009 University of Miami. All rights reserved. Requests to reproduce or publish materials from this collection should be directed to
asc.library@miami.edu
.
Escritura(s) de los documentos
Notas sobre las lenguas y escrituras
Instrumentos de descripción
Generated finding aid
Elementos de adquisición y valoración
Valoración, selección y eliminación
Elementos de material relacionado
Existencia y localización de originales
Existencia y localización de copias
Unidades de descripción relacionadas.
See also Florida Photograph Collection (ASM0300), and Michael L. Carlebach Photography Collection (ASM0530).
Descripciones relacionadas
Elemento notas
Identificador/es alternativo(os)
Área de control de la descripción
Objeto digital metadatos
Nombre del archivo
asm0636CL.pdf
Mime-type
application/pdf
Tamaño del archivo
61.7 KiB
Cargado
18 de mayo de 2018 15:50
Objeto digital (Ejemplar original), área de permisos
Objeto digital (Referencia), área de permisos
Objeto digital (Miniatura), área de permisos