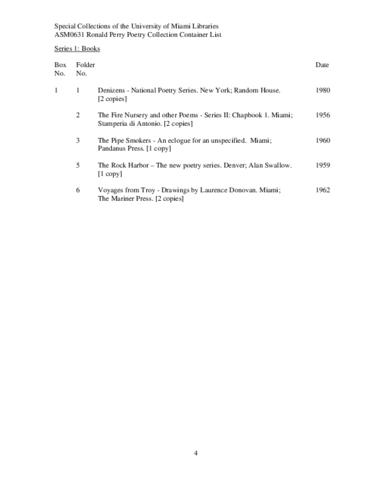 Elementos de identidad
Código de referencia
ASM0631
Nombre y localización del repositorio
Nivel de descripción
Colección
Título
Ronald Perry Poetry collection
Fecha(s)
1956-1982 (Creación)
1956-1982 (Creación)
Nombre del productor
Historia biográfica
Ronald Perry was born in Miami, Florida, in 1932, but spent most of his childhood on Key Largo where his parents operated a fishing lodge. He enrolled at the University of Miami receiving a Master of Arts degree in 1954. He then joined the Army and served two years as a cryptographer leaving in 1956 to enroll in graduate studies, only briefly, at the University of Iowa. Perry returned to Miami, published his first volume of poems, The Fire Nursery and Other Poems, and soon thereafter traveled to Southeast Asia where he worked for an engineering firm. In 1959, Perry published Rock Harbor and in 1960 The Pipe Smokers : An Ecologue for an Unspecified Occasion. Perry then moved to the Bahamas where he lived for eleven years. In 1962 Voyages from Troy was published, but he published little else until Denizens appeared in 1980, a volume chosen by Donald Justice, whom Perry met while a student at the University of Miami, for the National Poetry Series. Perry was preparing a manuscript entitled In the Smoke at the time of his death in 1982.
Área de contenido y estructura
Alcance y contenido
Ronald Lee Perry was a Miami poet and University of Miami alumnus. The Ronald Perry Poetry collection consists of books of his poetry, periodicals containing reviews of or essays about his writings, manuscripts, correspondence, and miscellaneous materials.
Sistema de arreglo
The collection is arranged into five series: I. Books, II. Periodicals, III. Manuscripts, IV. Correspondence, and V. Miscellaneous Materials.
Condiciones de acceso y uso de los elementos
Condiciones de acceso
This collection is open for research.
Condiciones
Ronald Perry Poetry Collection Finding Aid © 2009 University of Miami. All rights reserved. Requests to reproduce or publish materials from this collection should be directed to
asc.library@miami.edu
.
Escritura(s) de los documentos
Notas sobre las lenguas y escrituras
Instrumentos de descripción
Generated finding aid
Elementos de adquisición y valoración
Valoración, selección y eliminación
Elementos de material relacionado
Existencia y localización de originales
Existencia y localización de copias
Unidades de descripción relacionadas.
See also the Clark Mixon Emery Papers (linked below).
Descripciones relacionadas
Elemento notas
Identificador/es alternativo(os)
Área de control de la descripción
Puntos de acceso
Puntos de acceso por materia
Puntos de acceso por lugar
Puntos de acceso por autoridad
Tipo de puntos de acceso
Objeto digital metadatos
Nombre del archivo
asm0631CL.pdf
Mime-type
application/pdf
Tamaño del archivo
45.6 KiB
Cargado
18 de mayo de 2018 15:47
Objeto digital (Ejemplar original), área de permisos
Objeto digital (Referencia), área de permisos
Objeto digital (Miniatura), área de permisos