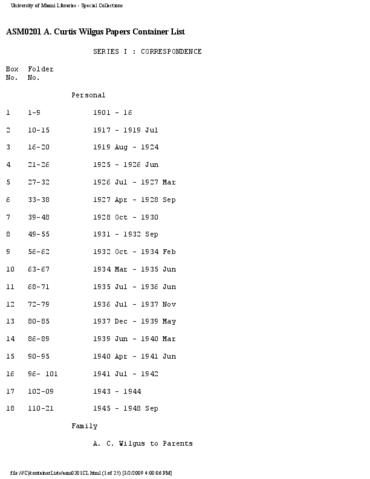 Identity elements
Name and location of repository
Level of description
Collection
Title
Wilgus, A. Curtis papers
Date(s)
1901-1981 (Creation)
1930-1970 (Creation)
Content and structure elements
Scope and content
The A. Curtis Wilgus Papers document the pioneering efforts by historian and author A. Curtis Wilgus (1898-1981) in the area of Latin American studies and the emergence of "Pan Americanism." The correspondence, writings, research files, photographs and other materials also document the evolution of a trend in higher education during the 1920's and the 1970's, an increase in global awareness reflected in the introduction of "area studies" programs at many universities.
System of arrangement
SERIES I: CORRESPONDENCE contains "personal," "family" and "professional" correspondence dated 1901-48. Personal correspondence, dated 1901-48, is arranged chronologically and contains letters to family members and friends, photographs, and programs from various sports, musical and other church and school events. Several of Wilgus' letters report on his experiences in the military during World War I. Other topics covered in correspondence include teaching positions, publications, book reviews, conferences and organizations. School newspapers, faculty memos, financial records, book selections for courses, programs from university events, bulletins, and other materials also appear in this series. Newspaper clippings document Wilgus professional achievements, university news, and Latin American events. Wilgus corresponded with several organizations including the following: Geographic and Historical Society of the Americas, Pan American Union, National Council for Social Studies, American Historical Society of the Americas, The American Peace Society, The Inter-American Bibliographic Library Association and others. Also contained in this series is correspondence with Latin American scholars from around the world, including friends and former students.
"Family" correspondence includes letters from Wilgus to his parents from 1918-39. Family correspondence also includes letters from his mother from the years 1916-26, from his second wife, Karna Wilgus, 1956-67, and letters from other family members dated 1956-74. "Professional" correspondence contains photographs, newspaper clippings, programs from Latin American conferences and university events, correspondence with Latin Americanists and with diplomats. Correspondence relates to the publication of writings, university matters such as student recommendations and books selected for courses, and Latin American conferences and organizations.
SERIES II: TOPICAL FILES, includes correspondence, programs, newsletters and other materials related to the various educational, historical and inter-American organizations. Conference topics range from American education in the Cold War to Caribbean studies. Files concern organization activities as well as more general subjects. A file dealing with the Inter-American Center of Florida, for example, contains a report by Wilgus (1946) which covers the status of Inter-American relations throughout the state of Florida and provides "Opinions of Leading Individuals in Florida."
Several files contain manuscripts including Wilgus' writings, conference lectures and papers, and the papers of James Robertson, editor of the Hispanic American Historical Review (HAHR). Robertson's papers include correspondence, records relating to HAHR and to his collection of papers at the Library of Congress. The "American Delusion," published in 1917 in Brazil, also appears in the papers. The work, described as "a denunciation of the United States and its relations with Latin America," was "confiscated upon its publication in Brazil."
Several files deal with the dedication of statues at various Latin American centers. Correspondence, programs and photographs document the events, often attended by congressmen and diplomats. Professional writings is another topic documented in these files. Contracts and correspondence with several publishing companies appears in this series, as well as correspondence involving articles written and edited for a number of encyclopedias.
Correspondence, memos, programs and other materials deal with George Washington University and the University of Florida. Other files concern conferences Wilgus attended and lectures he gave at other universities including the University of Miami's Hispanic American Institute in 1947 (See: Box 84, Folder 784).
TOPICAL FILES includes copies of bibliographical works as well as correspondence regarding bibliographical organizations. One file contains correspondence and a preliminary draft outlining a proposed WPA bibliography that would encompass a "comprehensive list of publications, in several languages, covering the American continents..." (85-802)
A few files contain materials that involve Wilgus' position as consultant to the United States Office of Education and the United States State Department. Files relating to the State Department contain correspondence, newspaper clippings, and pamphlets revealing efforts to establish more amicable relations with Latin America, and a desire to "strengthen the relations between the State Department policy planning staff and institutes for the study of foreign relations in various universities of the country" (See Box 83, Folder 779). Wilgus service on the "General Advisory Committee to the United States Office of Education" during 1941 is documented in correspondence and reports of meetings. Files dealing with Wilgus' duties as consultant for the Bureau of Research of the Office of Education in the 1960's contains correspondence, pamphlets, a newsletter and other materials. Other files in the series concern projects, personal matters and miscellaneous topics involving Latin America Interama "WORLDCOM," an "electronic library" and a production center for films, radio and television programs with a satellite station link to other countries, is discussed as a potential center for international conferences. The "Alcoa Report," written by Wilgus for the Alcoa Steamship Company, describes the vocational and technical educational facilities of Trinidad and Jamaica.
SERIES III: WRITINGS contains diaries dated 1912-47 and several works including Wilgus' textbook, the Development of Hispanic America, and Directed History Problems and Map Projects, a collection of worksheets dealing with European history. Another collection of papers, the Historical Dictionaries are the product of an Inter-American Bibliographical and Library Association project. Files, labeled by country and arranged alphabetically, include correspondence, contracts, and an "Editors Foreword" section composed by Wilgus. A brief synopsis of each country's history and biographical information about the contributing scholar is included. A copy of Wilgus' Latin America: A Guide to Illustrations provides explanations of photos in books and periodicals. The work, prepared under the auspices of the Inter-American Bibliographical and Library Association, covers various periods, nations, and aspects of Latin American studies.
Numerous 19th century travel biographies, also arranged alphabetically, describe observations and experiences of travelers in Latin America during the 1800's. The American Natives, a collection of readings on Latin America, and several papers discussed at the center for Inter-American relations in 1969 are also in this series. A 1970 bibliography lists collections of personal papers dealing with Latin America. Other files contain an unfinished manuscript, part of a series of "popular" books on various world regions. Wilgus' thesis, one of his father's manuscripts and an "Outline of History in the Elementary Schools" is also included. Additional files contain articles and speeches dated 1963-66.
SERIES IV: PHOTOGRAPHS AND OTHER MATERIALS contains photographs of Wilgus and family members as well as events held by the Pan American Union, Inter-American Bibliographic and Library Association, and the Pan American Institute of Geography and History. Photographs dated 1962 document Inter-American Academy events, and others dated 1963 cover the "swearing in ceremony" for new members of the Board of Foreign Scholarship. Other materials consist of awards, diplomas, certificates and post cards.
Conditions of access and use elements
Conditions governing access
This collection is open for research.
Physical access
This collection is kept in an off-campus storage facility. Please contact Special Collections at asc.library@miami.edu with the boxes you are interested in prior to your visit, and allow up to 1 week for delivery of materials.
Conditions governing reproduction
A. Curtis Wilgus Papers Finding Aid © 1992 University of Miami. All rights reserved. Requests to reproduce or publish materials from this collection should be directed to
asc.library@miami.edu
.
Languages of the material
Language and script notes
Generated finding aid
Acquisition and appraisal elements
Immediate source of acquisition
Appraisal, destruction and scheduling information
Related materials elements
Existence and location of originals
Existence and location of copies
Related archival materials
Notes element
Alternative identifier(s)
Description control element
Archivist's note
Processed by William E. Brown and Karen Hudson (Librarians)
Container list by Marcia Evanson (Archives Assistant)
Revised by Rudo Kemper (Library Assistant)
Digital object metadata
Mime-type
application/pdf
Uploaded
May 18, 2018 3:24 PM
Digital object (Master) rights area
Digital object (Reference) rights area
Digital object (Thumbnail) rights area