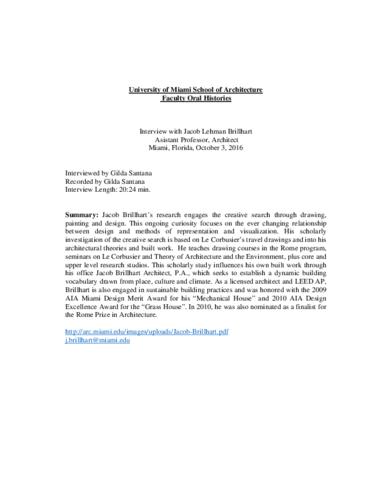 Elementos de identidad
Nombre y localización del repositorio
Nivel de descripción
Unidad documental simple
Título
Interview Professor Jacob Brillhart
Nombre del productor
Historia biográfica
Gilda Santana has a Master's in Library and Information Science from Rutgers, The State University of New Jersey; a Master of Science in Architecture from the School of Architecture, University of Miami, and a Bachelor of Art from Bard College where she majored in Art History. She joined the faculty of the University of Miami Libraries in 2007 as Head of Architecture Information and Resources to direct the Paul Buisson Architecture Library. In 2013 she became the Librarian for Art & Art History. She actively serves in several library organizations, including the Association of Architecture School Librarians (AASL) and the Art Libraries Association of North America (ARLIS). Her research interests are focused on facilitating a culture of design research through studio embedded-librarianship and the adoption of new technologies in Architecture and Art related disciplines.
Nombre del productor
Historia biográfica
This scholarly study influences his own built work through his office Jacob Brillhart Architect, P.A., which seeks to establish a dynamic building vocabulary drawn from place, culture and climate. As a licensed architect and LEED AP, Brillhart is also engaged in sustainable building practices and was honored with the 2009 AIA Miami Design Merit Award for his "Mechanical House" and 2010 AIA Design Excellence Award for the "Grass House". In 2010, he was also nominated as a finalist for the Rome Prize in Architecture.
Área de contenido y estructura
Alcance y contenido
Transcript interview to professor Jacob Brillhart by Gilda Santana. Interview length: 20:24 min.
Condiciones de acceso y uso de los elementos
Escritura(s) de los documentos
Notas sobre las lenguas y escrituras
Instrumentos de descripción
Elementos de adquisición y valoración
Valoración, selección y eliminación
Elementos de material relacionado
Existencia y localización de originales
Existencia y localización de copias
Unidades de descripción relacionadas.
Descripciones relacionadas
Elemento notas
Identificador/es alternativo(os)
Área de control de la descripción
Puntos de acceso
Puntos de acceso por materia
Puntos de acceso por lugar
Puntos de acceso por autoridad
Objeto digital metadatos
Nombre del archivo
Interview_Brillhart_10.3.16.pdf
Mime-type
application/pdf
Tamaño del archivo
44.4 KiB
Cargado
7 de junio de 2019 14:16
Objeto digital (Ejemplar original), área de permisos
Objeto digital (Referencia), área de permisos
Objeto digital (Miniatura), área de permisos