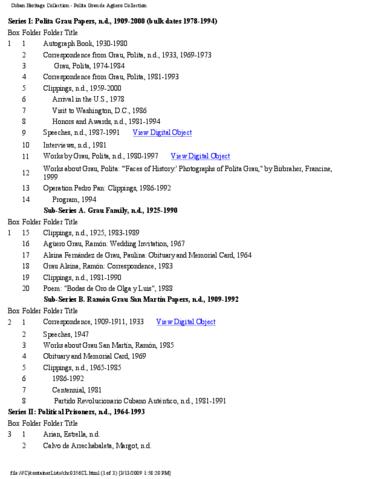 Identity elements
Name and location of repository
Level of description
Collection
Title
Polita Grau de Agüero Papers
Name of creator
Biographical history
María Leopoldina (Polita) Grau Alsina was born in Havana, Cuba, on 19 November 1915 to Paulina Alsina Fernández and Francisco Grau San Martín. She was the second of five children: Paulina, Francisco, Ramón, and María Dolores Sánchez, the latter who was taken in by the Grau Alsina family upon her mother's death. Along with her two sisters, Polita attended the Teresian school in Vedado.
Polita's father Francisco died on 30 November 1930, and the family was taken in by his brother Ramón Grau San Martín. Grau San Martín was a professor of physiology at the University of Havana, and when students there began organizing and protesting against the administration of General Gerardo Machado, Grau San Martín joined them. He was imprisoned for his activities and released on the condition that he leave the island. In January of 1931, Grau San Martín and the Grau Alsina family went into exile in Miami, where they joined many other Cubans who opposed the Machado government.
In 1933, Machado was ousted from Cuba and the Grau Alsina family returned to the island with their uncle, who became president of Cuba. Teenaged Polita served as his first lady until January 1934 when Fulgencio Batista led a successful coup against Grau San Martín. The family was once again sent into exile, this time to Mexico and later Miami. Polita returned to Cuba in May and in September 1934, she married Roberto Lago, a leader of the student movement. Their continued political activity led to Polita's third exile, arriving in Miami in 1935. On 21 August of that year, her husband Roberto died of appendicitis at Jackson Memorial Hospital in Miami, and Polita returned to Cuba to bury him. In 1939, Polita married José (Pepe) Agüero, with whom she had two children, Ramón (Monchi) and Hilda.
Along with her uncle, Polita was very active in the Partido Auténtico (Authentic Party). In 1944, Ramón Grau San Martín was elected president of Cuba, serving until 1948. His protégé, Carlos Prío Socarrás, succeeded him. In 1952, Fulgencio Batista led another coup d'etat, and Polita became active in the opposition which was led by Prío Socarrás. She gave shelter to many anti-government activists and helped them gain political asylum at various foreign embassies in Havana. Because of her activities, Polita was once again forced into exile in Miami, where she remained until 1959 when the Castro-led revolution succeeded in ousting Batista.
Once again in Cuba, Polita joined her colleagues from the Partido Auténtico and was soon involved in the anti-Castro movement, becoming part of a group known as Rescate led by Tony Varona, coordinating the women who participated in the resistance. They helped the counterrevolutionary forces that were still fighting throughout the island, aided political prisoners, sheltered counterrevolutionaries, and helped move arms and munitions throughout the island.
After the failed Bay of Pigs invasion in 1961, Polita's brother Ramón (Mongo) was recruited to help Miami-based priest Monsignor Bryan Walsh, who was trying to help Cuban parents get their children out of Cuba. With Mongo and Monsignor Walsh, Polita formed the core of Operation Pedro Pan which succeeded in getting over 14,000 unaccompanied children out of Cuba and to the United States. The siblings were arrested in 1965, accused of plotting to overthrow Fidel Castro, and received 30-year sentences.
Polita was released in 1978 and entered her final exile in Miami. Mongo Grau Alsina was freed in 1986 and joined his family in South Florida. From 1978 until her death, Polita focused her activities on raising awareness and garnering assistance for Cuban political prisoners, especially women, and on working with the Partido Auténtico reorganized in exile. She passed away on 21 March 2000 at the age of 84.
Content and structure elements
Scope and content
The Polita Grau de Agüero Papers document two aspects of Polita Grau's life and family. The correspondence, writings, and memorabilia primarily document Polita's time as a political prisoner in Cuba as well as her activities in exile on behalf of political prisoners. There are many clippings related to Polita's experiences in prison, her life in exile, and Operation Pedro Pan. The photographs in this collection document Polita's family from her parents to her own grandchildren, as well as the life of her uncle, Cuban president Ramón Grau San Martín.
Of special note in this collection is Series II where can be found biographies of Cuban women political prisoners. These biographies detail the experiences of these women in Cuban prisons. Series IV contains handicrafts created by Polita Grau and other political prisoners while serving their sentences.
System of arrangement
The Polita Grau de Agüero Papers are organized into five series. Please see the Finding Aid/Inventory section of this guide for more detailed information.
Conditions of access and use elements
Conditions governing access
This collection is unrestricted.
Conditions governing reproduction
Requests to publish or display materials from this collection require written permission from the rights owner. Please, contact
chc@miami.edu
for more information.
Languages of the material
Language and script notes
Generated finding aid
Acquisition and appraisal elements
Immediate source of acquisition
Gift of Polita Grau de Agüero, 1993
Appraisal, destruction and scheduling information
Related materials elements
Existence and location of originals
Existence and location of copies
Browse the digital objects in this collection
Related archival materials
Cuban Heritage Collection Archival Collections:
CHC0086 – Ramón Grau Alsina Collection
CHC0350 – Pedro Pan Collection
CHC Pamphlets Collection No. 2: History and politics in Cuba
Selected published materials in CHC, the University of Miami's Otto G. Richter Library, and the Web:
Cuban Women Political Prisoners:
Medrano, Mignon. Todo lo dieron por Cuba . Miami: Fondo de Estudios Cubanos de la Fundación Nacional Cubano Americana, 1995
Mora Morales, Esther Pilar. La verdad sobre el presidio político de mujeres en la Cuba castrista . Miami: Revista Ideal, 1986?
Pino Yerovi, Víctor. De embajadora a prisionera política: (memorias de Albertina O'Farrill) . Miami: Ediciones Universal, 1991.
Rodríguez, Ana. Diary of a Survivor: Nineteen Years in a Cuban Women's Prison . New York: St. Martin's Press, 1995.
Ramón Grau San Martín:
Cairo Ballester, Ana. La revolución del 30 en la narrativa y el testimonio cubanos . La Habana: Editorial Letras Cubanas, 1993.
Carrillo, Justo. Cuba 1933: estudiantes, yanquis y soldados . Coral Gables, Fla. Instituto de Estudios Interamericanos, University of Miami, 1985.
Cuba 1933: Comienza la nueva Cuba . Miami, Fla. Empresas Recuento, 1975.
Hernández-Bauzá, Miguel. Biografía de una emoción popular: el Dr. Grau . Miami: Ediciones Universal, 1987.
Lancís y Sánchez, Antonio. Grau, estadista y político: ciencuenta [sic] años en la historia de Cuba: tributo a su memoria . Miami: Ediciones Universal, 1985.
Palacios Hoyos, Esteban J. El libertador de los cubanos: (el hombre que no se fue) . Dyersburg, Tn: [s.n.], 1988.
Whitney, Robert. State and Revolution in Cuba: Mass Mobilization and Political Change, 1920-1940 . Chapel Hill: University of North Carolina Press, 2001.
Wright, Stephen John. Cuba, Sugar and the United States: Diplomatic and Economic Relations During the Administration of Ramon Grau San Martin, 1944-1948 . Thesis (Ph. D.)– Pennsylvania State University, 1983.
Ramón Grau Alsina:
Grau Alsina, Ramón. Mongo Grau: Cuba desde 1930 . Madrid: Agualarga Editores, 1997.
Operation Pedro Pan:
Conde, Yvonne M. Operation Pedro Pan: The Untold Exodus of 14,048 Cuban Children . New York: Routledge, 1999.
Del otro lado del cristal . Prod. Instituto Cubano de Arte e Industria Cinematográfica (ICAIC). Videocassette. 2000.
Triay, Victor Andres. Fleeing Castro: Operation Pedro Pan and the Cuban Children's Program . Gainesville: University Press of Florida, 1998.
Notes element
Alternative identifier(s)
Description control element
Digital object metadata
Mime-type
application/pdf
Uploaded
May 18, 2018 5:21 PM
Digital object (Master) rights area
Digital object (Reference) rights area
Digital object (Thumbnail) rights area