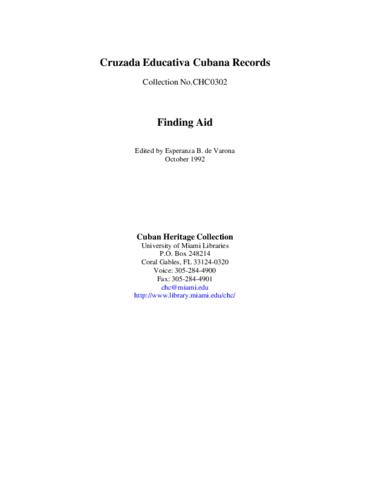 Zone d'identification
Nom et localisation du dépôt
Niveau de description
Collection
Titre
Cruzada Educativa Cubana Records
Importance matérielle
20 Boxes
Nom du producteur
Histoire administrative
Cruzada Educativa Cubana (C.E.C.) was an organization in exile, founded on August 2, 1962, in Miami, Florida by María Gómez Carbonell, the first Congresswoman of the Republic of Cuba. The organization promoted the diffusion of the main principles of the Cuban education and culture within the framework of freedom and democracy in the United States of America.
The theme of the C.E.C. "A la Libertad por la Educación y la Cultura" ("Toward Freedom for Education and Culture") represents the primary objective of the organization: to avoid the penetration and expansion of the international Communism in education along a path of a clear and strong democratic process. This organization looked forward to the rejection of the Communist doctrine in order to achieve complete freedom for all by means of democratic education and culture for all.
Cruzada Educativa Cubana was formed by the central Executive body and the delegates designated by the Central Executive for each state of the Union and for each country. The delegates appointed representatives in other important cities. Following the main tasks and objectives of the organization, the delegates worked by recruting professors living in the United States and Latin America. Each delegate worked towards the C.E.C. Objectives by using the media and created programs such as "Tertulias Infantiles," weekly workshops for children about Cuban history, democratic ideals, geography, music and poetry. They also proposed educational projects to the Central Executive Body.
C.E.C. prepared a variety of programs over the years. Among these programs were "Día del Maestro Cubano" ("Cuban Teacher Day"), "Día de la Cultura Cubana" ("Cuban Cultural Day"), and the "Democratic Rehabilitation of the Cuban Schools."
Cruzada Educativa Cubana also offered lectures such as "Ciclo Juvenil"("Juvenile Cycle") and "Ciclo Sin Verdad no hay Historia"("Without Truth there is no History Cycle"). Homages given to Cuban personalities were also offered by C.E.C.
Various awards were established by C.E.C. honoring Cuban educators and historians who made important contributions to education in general. Some of these were Candelaria Carbonell Award, Francisco Vicente Aguilera Award, José de la Luz y Caballero Award, Juan J. Remos Award, and José Antonio Saco Award.
Zone du contenu et de la structure
Portée et contenu
The records of Cruzada Educativa Cubana, Inc. contain manuscripts, transcripts, printed material, photographs, books, proclamations and a flag.
Mode de classement
The Cruzada Educativa Cubana Records are organized into seven series.
Please see the Finding Aid/Inventory section of this guide for more detailed information.
Zone des conditions d'accès et d'utilisation
Conditions d'accès
This collection is open for research.
Conditions de reproduction
Requests to publish or display materials from this collection require written permission from the rights owner. Please, contact
chc@miami.edu
for more information.
Notes sur la langue et l'écriture
Générer l'instrument de recherche
Éléments d'acquisition et d'évaluation
Historique de la conservation
Source immédiate d'acquisition
Gift of María Gómez Carbonell, 1987.
Évaluation, élimination et calendrier de conservation
Sources complémentaires
Existence et lieu de conservation des originaux
Existence et lieu de conservation des copies
Élément de notes
Identifiant(s) alternatif(s)
Zone du contrôle de la description
Document numérique - métadonnées
Nom du fichier
chc0302.pdf
Type MIME
application/pdf
Taille du fichier
5.9 MiB
Téléversé
18 mai 2018 17:17
Document numérique (Matrice) zone des droits
Document numérique (Référence) zone des droits
Document numérique (Vignette) zone des droits