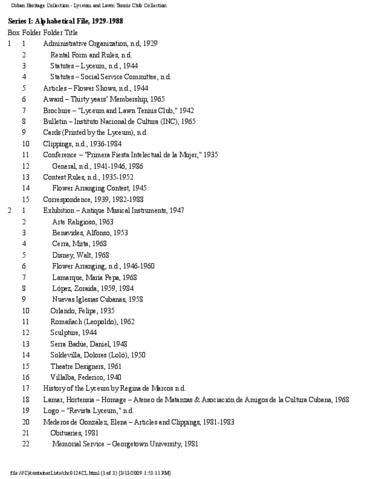 Identity elements
Name and location of repository
Beschrijvingsniveau
Collectie
Titel
Lyceum and Lawn Tennis Club Collection
Naam van de archiefvormer
Institutionele geschiedenis
The Lyceum and Lawn Tennis Club began in Havana as the Lyceum, a women's society dedicated to promoting cultural understanding, social consciousness and social service, as well as physical fitness and sports. It was founded by fourteen women concerned with social problems as well as the role of women in fostering the intellectual development and expression in Cuba: Berta Arocena, Carmen and Dulce María Castellanos, Carmelina Guanche, Rebeca Gutiérrez, Matilde Martínez Márquez, Lillian Mederos, Reneé and Sarah Méndez Capote, María Teresa Moré, Alicia Santamaría, Ofelia Tomé, and María Josefa Vidaurreta.
This group's first meeting took place at the home of Berta Arocena, the Lyceum's first president, on 1 December 1928. Following the model of a similar Spanish association, the Lyceum was officially incorporated on 22 February 1929 at a home at Calzada and A Streets in El Vedado section of Havana.
The first ten years of the Lyceum's history were mainly a period of consolidation and development as an organization focused on the promotion of cultural awareness and activities. Although social service was not part of the society's initial agenday, it was among the primary goals of the organization.
On February 22, 1939, at the tenth anniversary of its inauguration, the Lyceum was merged with the "Tennis de Señoritas," another women's organization dedicated primarily to women's sports, whereupon it became known as the Lyceum and Lawn Tennis Club. From this point in time, the new club flourished due to an influx of new members and a strengthened focus on its goals. The Lyceum, as it was still commonly known, continued its tradition of promoting cultural awareness, exhibitions and lectures, and increased the emphasis on and the scope of its social service activities. The society moved to a larger location more suited to its needs for space at Calzada and 8 Streets in El Vedado.
The scope of the activities of the Lyceum and Lawn Tennis Club was wide, including several "firsts" in Cuba. The Lyceum sponsored many different lectures and conferences on many topics given by some of the most prominent scholars and speakers of the times from across the ideological spectrum. Its facilities were also used for recitals sponsored of other associations such as the Sociedad de Conciertos (Concert Society) and the Sociedad de Música de Cámara (Society of Chamber Music). It even welcomed the famous Pro-Arte Musical when the latter's auditorium was seized after the Cuban Revolution of 1959.
The Lyceum also had a gallery which housed exhibitions of classical and modern art, photography, and folk art of different countries but with a particular focus on Cuban arts. The most famous of these exhibitions was the one that took place every April: the exhibition of flower and plant arrangements which eventually acquired international fame.
There are several other notable accomplishments by the Lyceum. It founded the first free public library in Cuba and the first children's library on the island. It sponsored various classes at different levels, from the famed flower arrangement classes to literacy classes and vocational training. The popularity of these classes increased after the 1959 Revolution because classes were conducted without the ideological interference of the revolutionary government. Indeed, from its foundation of social service activities dedicated to "works of charity and solving the problems of the destitute," the Lyceum developed the School of Social Service of the University of Havana.
The Lyceum continued to function until it was closed on 16 March 1968 by the Castro government, with many of its members, including the last president, becoming exiled in the United States and other countries.
In the early 1980s, the Cuban Heritage Collection (CHC) began a campaign to collect Lyceum and Lawn Tennis Club materials from former members in exile, many of whom donated their Club memorabilia and ephemera to the CHC. The materials collected through those efforts comprise this collection. It was voluntarily processed by a former member of the Lyceum and lawyer, Alicia O. Hernández, with the assistance of CHC staff.
Content and structure elements
Bereik en inhoud
The Lyceum and Lawn Tennis Club Collection is comprised of administrative files, publications, events and exhibitions programs, and photographs of this Cuban women's club. The materials in this collection primarily document the Lyceum's services and activities, e.g. art exhibitions, children's programs, and its famous flower arrangement classes and shows, from its inception until its closing by Castro's government in 1968.
Ordeningstelsel
The Lyceum and Lawn Tennis Club Collection is organized into four series.
Please see the Finding Aid/Inventory section of this guide for more detailed information.
Conditions of access and use elements
Voorwaarden voor raadpleging
This collection is open for research.
Voorwaarden voor reproductie
Requests to publish or display materials from this collection require written permission from the rights owner. Please, contact
chc@miami.edu
for more information.
Languages of the material
Taal en schrift aantekeningen
Generated finding aid
Acquisition and appraisal elements
Directe bron van verwerving
Appraisal, destruction and scheduling information
Related materials elements
Bestaan en verblifplaats van originelen
Bestaan en verblijfplaats van kopieën
Some or all of this collection has been digitized.
Related archival materials
Selected published materials in CHC and/or the University of Miami's Otto G. Richter Library:
Instituto Jacques Maritain de Cuba. La Mujer cubana: historia e infrahistoria . Miami, Fla. Ediciones Universal, 2000.
Lyceum and Lawn Tennis Club. Baile de las Américas . La Habana: 1959.
NOTE: Cover illustrated by Massaguer.
Lyceum and Lawn Tennis Club. Exposición de flores . La Habana: P. Fernández, 1956.
Lyceum and Lawn Tennis Club. Exposición de plástica cubana contemporánea: Lyceum, La Habana, Enero 28, 1954 . La Habana: Lyceum, 1954.
Séjourné, Laurette. La mujer cubana en el quehacer de la historia . México: Siglo Veintiuno Editores, 1980.
Sosa de Quesada, Arístides. Reliquias de Martí: conferencia ilustrada con proyecciones en pantalla, pronunciada en el teatro "Sauto" de Matanzas, a invitación de "Amigos de la cultura cubana"; en la Sociedad Lyceum Lawn & Tennis club de la Habana, y en el Club San Carlos de Santiago de Cuba, a instancias de ambas directivas . La Habana: P. Fernández, 1942.
The Stoner Collection on Cuban Feminism: a Microfilm Collection Held in the Arizona State University Libraries Microform Service . Tempe, Ariz. Arizona State University Libraries, 1990.
Stoner, K. Lynn, ed. and Luis Hipólito Serrano Pérez. Cuban and Cuban-American Women: An Annotated Bibliography . Wilmington, Del. Scholarly Resources, 2000.


----. From the House to the Streets: The Cuban Woman's Movement for Legal Reform, 1898-1940 . Durham, NC: Duke University Press, 1991.
Torriente, Cosme de la. Cooperación intelectual: conferencia pronunciada en el "Lyceum y Lawn Tennis Club" de la Habana, el día 16 de diciembre de 1941 . La Habana: "La Verónica," imprenta de M. Altolaguirre, 1942.
Women in Cuba, 1923-1985: Pamphlets . Cuba: various publishers, 1923-1985. Microfilm by Princeton University Library, 1987.
Notes element
Algemene aantekening
Other Information:
Sponsor Note:  Portions of this collection were digitized with funding from the Institute of Museum and Library Services.
Alternative identifier(s)
Description control element
Trefwoorden
Onderwerp trefwoord
Digitaal object metadata
Bestandsnaam
chc0124CL.pdf
Mime-type
application/pdf
Bestandsgrootte
130.1 KiB
ingelezen
18 mei 2018 17:05
Digitaal object (Master) rights area
Digitaal object (Referentie) rights area
Digitaal object (Thumbnail) rights area
Voorwaarden voor raadpleging en gebruik