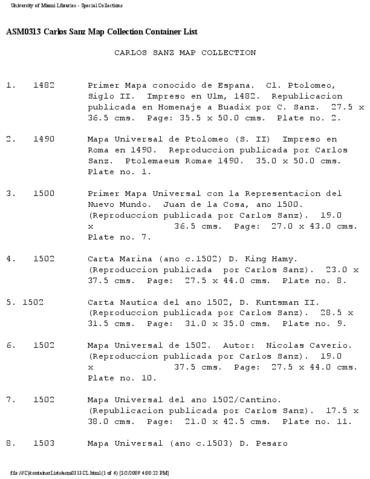 Elementos de identidad
Código de referencia
ASM0313
Nombre y localización del repositorio
Nivel de descripción
Colección
Título
Carlos Sanz map collection
Fecha(s)
1482-1598 (Creación)
1482-1598 (Creación)
Área de contenido y estructura
Alcance y contenido
Carlos Sanz was the author of several articles and books dealing with cartography and the discovery of the New World. The Sanz map Collection includes 19 reproductions of maps and charts originally published between 1482 and 1598 by well known cartographers such as Mercator, Juan de la Cosa, Contarini, and Ptolemy. These maps form part of 50 items reproduced and published with a commentary by Sanz in his two volume work entitled Mapas antiguos del mundo: (siglos XV-XVI) (Madrid, 1962).
Condiciones de acceso y uso de los elementos
Condiciones de acceso
This collection is open for research.
Condiciones
Carlos Sanz Map Collection Finding Aid © 1991 University of Miami. All rights reserved. Requests to reproduce or publish materials from this collection should be directed to
asc.library@miami.edu
.
Escritura(s) de los documentos
Notas sobre las lenguas y escrituras
Instrumentos de descripción
Generated finding aid
Elementos de adquisición y valoración
Valoración, selección y eliminación
Elementos de material relacionado
Existencia y localización de originales
Existencia y localización de copias
Unidades de descripción relacionadas.
Descripciones relacionadas
Elemento notas
Identificador/es alternativo(os)
Área de control de la descripción
Puntos de acceso
Puntos de acceso por materia
Puntos de acceso por lugar
Puntos de acceso por autoridad
Tipo de puntos de acceso
Objeto digital metadatos
Nombre del archivo
asm0313CL.pdf
Mime-type
application/pdf
Tamaño del archivo
118.8 KiB
Cargado
18 de mayo de 2018 15:31
Objeto digital (Ejemplar original), área de permisos
Objeto digital (Referencia), área de permisos
Objeto digital (Miniatura), área de permisos