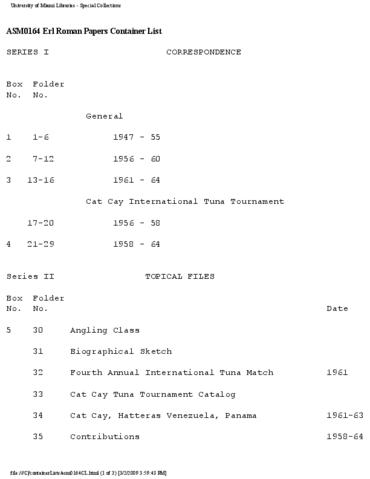 Identity elements
Name and location of repository
Level of description
Collection
Name of creator
Biographical history
Before working at the University of Miami, Erl Roman established a reputation as a fisherman and writer. He fished throughout the United States, in Canada, Mexico, the Bahamas and the West Indies, and held several fishing records. Roman also launched a crusade for fresh water conservation in Florida and
contributed to the passage of state conservation game and fish laws. Roman also played a key role in promoting the University of Miami. He held a public relations position in the University's Office of Public Information from 1946-64, promoted the University of Miami football team and publicized the Marine Laboratory. Roman also taught a fishing course, coached the polo team and contributed to the university in numerous ways.
Roman's knowledge of sport fishing led to a successful writing career. After graduating from Baltimore City College, he wrote Fishing for Fun in Salty Waters. Numerous outdoor magazines also published his articles. For 17 years, Roman was fishing editor for the Miami Herald, and he held positions as second fishing editor of America and editor of Outdoorsman Magazine.
In addition to fishing, Roman displayed an avid interest in college football. He first supported the University of Miami team during the early 1930's, initiating a lifelong connection with the University. In 1933 Roman helped organize and promote the first "Palm Festival" game which brought the school national publicity and set the precedent for what became known as the "Orange Bowl Game." Roman also aided the team through his donation of the mascot "Touchdown Tommy"--a small canon decorated in school colors.
In 1935, a University of Miami cheerleader originated the practice of firing a canon whenever the football team scored. Two years later Erl Roman painted a salute gun and presented it to the team. The canon, named "Touchdown Tommy," was fired "...on the opening kickoff, on the advent of all scores, at the opening of the second half, and at the end of the game, steadily building up a tradition..."
He also organized "The Quarterback's Club" in 1938, to garner financial support for the team. The Club familiarized Dade County residents with the University of Miami, increased game attendance, raised funds for the football team, and provided aid for players. An "Entertainment Committee" planned events for visiting squads, and organized dinners and awards banquets. The "Publicity Committee" advertised the club, and the "Block Membership Committee" focused on soliciting large donations from "business firms, movie houses, et cetera...to be used in obtaining outstanding football talent." The club paid for players' hospitalization insurance and trips home, and for coaches' scouting expenses. Club members entertained and acquainted players with the Miami area, and placed them in jobs during school vacations and after graduation.
Roman actively promoted University of Miami football in his capacity as a publicist and in personal and business correspondence. In his letters Roman often discussed attendance at football games and described the excitement of the crowds. In an attempt to interest a journalist in Miami football, Roman wrote that "Football enthusiasm here really is excessive. It's the damndest thing I've ever seen anywhere...I'll get busy and dig up dope for the article on the football games and crowds, and I'll predict that it will make the most interesting football story ever carried in the Post."
In 1946, University of Miami President Bowman F. Ashe requested that Roman work for the University's Office of Public Information. Roman accepted the public relations position which involved the promotion of numerous aspects of the university including those with which he was personally involved: polo, football, the Marine Laboratory and Adult Division Courses. He also wrote or obtained press releases covering university news.
While at the University of Miami, Roman introduced a "Fresh and Salt Water Fishing Class" offered through the Physical Education Department and by the Adult Education Division. For ten years Roman taught this two credit course which drew Dade County residents and tourists as well as students. The polo team, organized in 1947, became another of Roman's projects. He coached the team, leading it to a number of National Championship victories and issued press releases to popularize the sport. Roman also played an instrumental role in the establishment of the first chapter of a national fraternity on campus, and he founded the Symphony Club to aid the developing orchestra.
In his official capacity as publicist, Roman concentrated on public relations in two areas. In correspondence dated 1953 Roman reported that he was "...mainly concerned with the Marine Laboratory and the athletic department..." two areas he "always sort of specialized in." Using his organizational and publicity skills as he had on behalf of the football team, Roman increased financial backing of the Marine Lab and promoted the institution When the lab was founded in 1942, it lacked funds, buildings and staff. Roman introduced the lab's director to donors who funded the construction of three buildings as well as numerous research projects. Roman participated in and advertised much of this research. The lab, originally staffed by two scientists and housed in an abandoned boathouse on Miami Beach, rapidly became a productive research center with a forty member team. Following his retirement in 1964, Roman continued to raise money for this facility, later known as the Marine Institute, and to promote the University of Miami.
Content and structure elements
Scope and content
The papers of Erl Roman, well known sport fisherman and skilled writer and publicist, provide information about the sport of angling and about the University of Miami's early years. The records, dated 1935-64, are divided into four series. SERIES I: CORRESPONDENCE and SERIES IV: SCRAP BOOKS, document Roman's fishing career as well as laws and events influencing the sport. SERIES II: TOPICAL FILES relate to fishing and to Roman's involvement with the University of Miami. SERIES III: PRESS RELEASES contains the press releases issued by Roman for the University of Miami Office of Public Information.
System of arrangement
SERIES I: CORRESPONDENCE contains letters and records dated 1947-64. The majority of the papers in this series, dated 1956-64, involve the Cat Cay Key International Tuna Tournament. Letters, various tournament programs and several issues of a tournament newsletter "Cat Cay Key Hole" document this event.
The remaining correspondence concerns other fishing tournaments, a proposed fishing school at the University of Miami, and Roman's publicity of the University of Miami Marine Laboratory and football team. Information on Roman's angling classes, "fan mail," inquiries about fishing, and business correspondence are also included in this series.
SERIES III, PRESS RELEASES consists of news releases prepared for newspaper and magazine publication and occasionally for radio and television broadcasting. Numerous articles, dated 1951-58, concern the University of Miami Marine Laboratory. Others dated 1947-48 promote Roman's "Angling Class" offered through the
university, and those dated 1949-52 publicize various other facets of the University of Miami. This series also contains records and press releases from 1948-54 regarding The Quarterback's Club, and a description of the proposed Gulf Stream Aquarium to be located on Key Biscayne.
SERIES III provides information about the University of Miami, the curriculum, student activities, efforts to meet the needs of working students and veterans, and the university's expanding community role. The majority of the press releases involve topics with which Roman was personally connected, such as the polo team, the Marine Laboratory, the University of Miami Adult Division and the football team. Other subjects covered include the library, fraternities, commencement and homecoming, registration and orientation, construction, and the G.I. Education Bill.
Press releases also relate to special course offerings such as television courses and stewardess training classes. Performances and shows including Ring Theater productions, University of Miami symphony performances, music school recitals, and art gallery shows are described. Several articles involve academic topics such as the hiring of faculty, research projects, university publications and new departments and schools.
Press releases describe the contributions of The Quarterback's Club. Additional documents such as minutes of meetings and membership cards record club activities, and club records include photographs (contained in box 10, folder 85) of the football team's "Touchdown Tommy."
A "Report on the Proposed Gulfstream Aquarium, Virginia Key, Dade County Florida," also appears in this series. The report, written in 1949 by the project's consulting engineers, describes the aquarium and predicts its role in the community. A plot plan of the area, and letters from "prominent citizens" including the mayor, city manager, and Eddie V. Rickenbacker are also included.
SERIES IV: SCRAPBOOKS consists of twenty-five scrapbook albums dated 1935-42. Daily entries in each book cover a 2-4 month period. Contents include newspaper clippings of Roman's Miami Herald column "Angler's Notes," later entitled "Ocean, Bay and Stream." In addition to Roman's articles, the books contain cartoon strips dealing with sport fishing; others illustrate a "world championship fisherman," possibly modelled on Roman. Clippings from various magazines and newspapers provide coverage of Roman's fishing activities.
Roman's Miami Herald column reported fishing news, covered tournaments and other events, and noted celebrities who fished in Miami. The column also notified sport fishers of new regulations and presented views on the issues of fish conservation, boat liscencing and salt water fishing laws. Roman often discussed the contribution of angling to Miami's tourist industry. In a 1940 article, Roman asserted that "Fishing has proved to be a great attraction to this area. That Miami has grown to such fine proportions, is largely due to the excellent salt water angling available here..."
A 1948 issue of Ashaway Sportsman Magazine also appears in this series. Roman's article, "Angling Now Accepted College Course" explains the objectives of Roman's University of Miami class. In addition to fishing technique Roman taught students "how fishing camps are operated, how to became a successful fishing guide, how to qualify for work in a ...summer camp or for a job as public playgrounds manager." He also emphasized the importance of conservation and tried to cultivate an appreciation of the outdoors.
Conditions of access and use elements
Conditions governing access
This collection is open for research.
Physical access
This collection is kept in an off-campus storage facility. Please contact Special Collections at asc.library@miami.edu with the boxes you are interested in prior to your visit, and allow up to 1 week for delivery of materials.
Conditions governing reproduction
Erl Roman Papers finding aid © 1991 University of Miami. Requests to reproduce or publish materials from this collection should be directed to
asc.library@miami.edu
.
Languages of the material
Language and script notes
Generated finding aid
Acquisition and appraisal elements
Immediate source of acquisition
Appraisal, destruction and scheduling information
Related materials elements
Existence and location of originals
Existence and location of copies
Related archival materials
Notes element
Alternative identifier(s)
Description control element
Access points
Subject access points
Genre access points
Digital object metadata
Mime-type
application/pdf
Uploaded
May 18, 2018 3:20 PM
Digital object (Master) rights area
Digital object (Reference) rights area
Digital object (Thumbnail) rights area