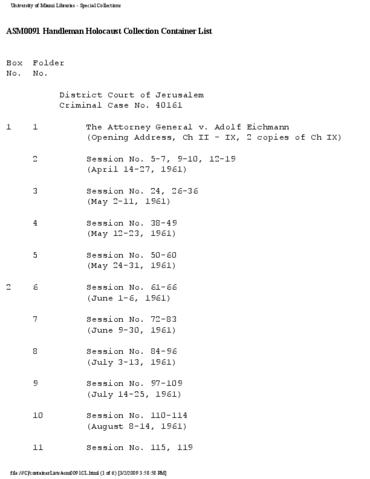 Elementos de identidad
Código de referencia
ASM0091
Nombre y localización del repositorio
Nivel de descripción
Colección
Título
Handleman Holocaust collection
Fecha(s)
1942-1982 (Creación)
1948-1961 (Creación)
Área de contenido y estructura
Alcance y contenido
The contents of this collection, made possible by an endowment by philanthropist Joseph Handleman, were selected and arranged by Dr. Helen Fagin, director of the Judaic Studies program at the university. The collection includes assorted materials pertaining to the Third Reich, the Holocaust, and the history of anti-Semitism in general, including among others: the original transcript of the trial of Adolf Eichmann; a set of reports, letters, minutes, and other official documents concerning Third Reich occupation and war crimes in the Baltic states of Latvia, Estonia, and Lithuania; documents by Heinrich Himmler; an original yellow star; as well as several pieces of anti-Semitic literature.
Condiciones de acceso y uso de los elementos
Condiciones de acceso
This collection is open for research.
Condiciones
Handleman Holocaust Collection finding aid © 1992 University of Miami. Requests to reproduce or publish materials from this collection should be directed to
asc.library@miami.edu
.
Escritura(s) de los documentos
Notas sobre las lenguas y escrituras
Instrumentos de descripción
Generated finding aid
Elementos de adquisición y valoración
Origen del ingreso
Material received through Helen Fagin, Director of the Judaic Studies Program at the University of Miami, from Joseph Handleman to be added to the Handleman Holocaust Archival Collection.
Valoración, selección y eliminación
Elementos de material relacionado
Existencia y localización de originales
Existencia y localización de copias
Unidades de descripción relacionadas.
Descripciones relacionadas
Elemento notas
Identificador/es alternativo(os)
Área de control de la descripción
Puntos de acceso
Puntos de acceso por materia
Puntos de acceso por lugar
Puntos de acceso por autoridad
Tipo de puntos de acceso
Objeto digital metadatos
Nombre del archivo
asm0091CL.pdf
Mime-type
application/pdf
Tamaño del archivo
123.4 KiB
Cargado
18 de mayo de 2018 15:00
Objeto digital (Ejemplar original), área de permisos
Objeto digital (Referencia), área de permisos
Objeto digital (Miniatura), área de permisos