Mostrando 3 resultados
Descripción archivística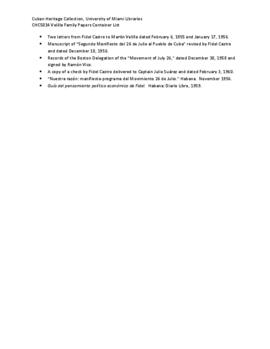 CHC5014
Colección
1955-1960
The collection  consists of correspondence from Fidel Castro to Martín Velilla, manuscripts, manifestos and magazines.
Velilla Family
CHC5152
Colección
1871-1982
The papers document activities of J. M. Portuondo in capacity of a professor of Internal Medicine at the University of Havana, a writer and a faculty member of the University of Miami School of Medicine.  The materials include books, pamphlets, pe...
Portuondo, Juan M.
CHC5210
Colección
1988-2002
The papers document activities of Orlando Bosch in capacity of President of Partido Protagonista del Pueblo (P.P.P.) and a writer, as well as activities of P.P.P. The materials include correspondence, documents, newspaper articles, two books publi...
Bosch, Orlando Avila