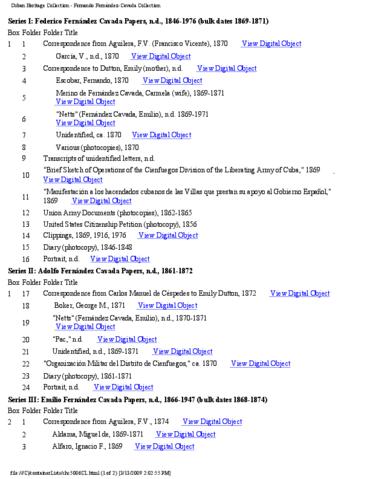 Identity elements
Name and location of repository
Level of description
Collection
Title
Fernando Fernández-Cavada Collection
Name of creator
Biographical history
There were three sons born to Isidoro Fernández Cavada (d. 1838) of Santander, Spain and Emily Howard Gatier (d. 1903) of Philadelphia: Emilio (1830-1914), Federico (1831-1871), and Adolfo (1832-1871), all born in Cienfuegos, Cuba. After her husband's death in 1838, Emily took her young sons to Philadelphia, where she later married Samuel Dutton (1814?-1889). Although they were raised in the United States, the Fernández Cavada brothers felt strong ties to the island of their birth, and each played different roles in its struggles for independence.
Federico Fernández Cavada (1831-1871) is perhaps the best known of the brothers, having published a book about his experiences as a prisoner of war in a Confederate prison during the US Civil War. He served as a Lieutenant Colonel in the Union Army until his capture in the battle of Gettysburg in 1863. Federico remained a prisoner at Libby Prison in Richmond, Virginia until January 1864 and later published Libby Life, his sketches and illustrations of his prison experience.
Soon thereafter, Fernández Cavada was appointed United States consul at Trinidad, Cuba, a post he occupied until February 1869 when he resigned to take part in the Cuban insurrection that became Cuba's Ten Years War (1868-1878). Federico was a General for the District of Trinidad, Commander in Chief of the Cinco Villas, and came to be the Commander-in-Chief of all Cuban forces. Burning and destroying Spanish property as a battle tactic, he became known as "General Candela" (General Fire). In 1871, Federico was captured by the Spanish gunboat Neptuno and was taken to Puerto Principe for trial. Although the exact date is not certain, Federico Fernández Cavada was executed in July 1871. He was survived by his wife, Carmela Merino, and their son Samuel.
The youngest Fernández Cavada, Adolfo (1832-1871), followed in his brother Federico's footsteps. Having served in the Union Army in the 23rd Pennsylvania Infantry and as an aide to General A. A. Humphreys, Adolfo joined the Cuban struggle for independence and served as Commander of the District of Cienfuegos, later succeeding his brother as Commander-in-Chief of the Cinco Villas. On 18 December 1871, he was killed in battle at the coffee estate "La Adelaida" near Santiago de Cuba.
While his brothers took up arms to support the Cuban cause, Emilio (1830-1914) rallied support for the independence efforts from Philadelphia. He was an active fundraiser and information relay from his brothers to exiled strategists. With other exiles in Philadelphia and New York, Emilio Fernández Cavada raised funds and funneled arms and munitions to the insurgent forces on the island. Emilio later resettled with his family in Cienfuegos and fathered six children: Isidoro, Inés, Angela, Emilio (1866-1947), Adolfo, and Fernando, whose son Fernando Fernández-Cavada donated this collection to the Cuban Heritage Collection.
Emilio's son Emilio Fernández-Cavada Suárez del Villar trained as a doctor in Philadelphia and in 1896 joined Cuba's War of Independence (1895-1898) as a Lieutenant Colonel. His death was misreported in Liberating Army records when in fact he had escaped the island. Emilio later returned to Cuba and married Hortensia Elizondo, with whom he lived in Cienfuegos until his death in 1947.
Content and structure elements
Scope and content
The Fernando Fernández-Cavada Collection consists primarily of the correspondence of Federico, Adolfo, and Emilio Fernández-Cavada, as well as of Emilio Fernández-Cavada Suárez del Villar. Many of the letters are written in code and have been transcribed. A large number of letters in Series I and II from Federico and Adolfo are addressed to "Netts," the code name for their brother Emilio in Philadelphia. Series III contains letters from leaders of the Cuban Revolutionary Party in the United States to Emilio. The correspondence in this collection deals primarily with the insurrection in Cuba and particularly with the activities of Cuban exiles in support of the war. Also included in this collection are clippings and three photographs of the Fernández-Cavada brothers, as well as Emilio Fernández-Cavada Suárez del Villar's war diary from 1896 to 1898 (Series III).
System of arrangement
The Fernando Fernández-Cavada Collection is organized into four series.
Please see the Finding Aid/Inventory section of this guide for more detailed information.
Conditions of access and use elements
Conditions governing access
This collection is open for research.
Conditions governing reproduction
Requests to publish or display materials from this collection require written permission from the rights owner. Please, contact
chc@miami.edu
for more information.
Languages of the material
Language and script notes
Generated finding aid
Acquisition and appraisal elements
Immediate source of acquisition
Gift of Fernando Fernández-Cavada, 1997
Appraisal, destruction and scheduling information
Related materials elements
Existence and location of originals
Existence and location of copies
Browse the digital objects in this collection
Related archival materials
Cuban Heritage Collection Manuscripts Collections:
CHC0398 Cordovés and Bolaños Family Collection
Folder 16: Treaty of Zanjón = Pacto de Zanjón, February 1878.
Published material in CHC and/or the University of Miami's Otto G. Richter Library:
Davis, Oliver Wilson. Sketch of Frederic Fernández-Cavada, a Native of Cuba: Showing partially what one of his friends knew of him as a soldier, a gentleman, a poet, a diplomat, an author, a patriot, and a victim . Washington, DC: 1963.
NOTE: An uncataloged copy of this book is located in Box 1 of this collection. It is signed by the donor, Fernando Fernández-Cavada.
Cavada, F. F. (Federico Fernández). Libby Life: Experiences of a Prisoner of War in Richmond, Va., 1863-64 . Philadelphia: King & Baird, 1864.
Collazo, Enrique. Desde Yara hasta el Zanjón: apuntaciones históricas . Habana: Tip. de "La Lucha," 1893.
Escalera, Juan V. Campaña de Cuba (1869 á 1875) . Madrid: Impr. de los Señores Rojas, 1876.
Gelpí y Ferro, Gil. Álbum histórico fotográfico de la guerra de Cuba desde su principio hasta el reinado de Amadeo I: dedicada a los beneméritos cuerpos del ejército, marina y voluntarios de esta isla . Habana: Impr. "La Antilla," 1872.
Leyva y Aguilera, Herminio C. El movimiento insurreccional de 1879 en la provincia de Santiago de Cuba (La Guerra Chiquita) . Havana: Impr. Y Papelería "La Universal," 1893.
Notes element
Alternative identifier(s)
Description control element
Access points
Place access points
Name access points
Digital object metadata
Mime-type
application/pdf
Uploaded
May 18, 2018 6:02 PM
Digital object (Master) rights area
Digital object (Reference) rights area
Digital object (Thumbnail) rights area