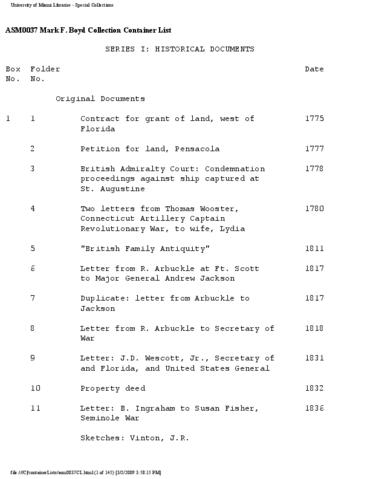 Identity elements
Name and location of repository
Level of description
Collection
Title
Mark F. Boyd collection
Name of creator
Biographical history
Mark F. Boyd (1889-1968), a physician, researcher and writer, specialized in tropical medicine, and his research on malaria brought him international recognition. The Rockefeller Foundation selected Boyd to conduct research on malarial regions of the
western hemisphere. He was elected President of the American Society of Tropical Medicine, and received awards for his achievements in tropical medicine. For 16 years Boyd served as an officer of the National Malaria Society and became president of the organization in 1946. Boyd also wrote a number of articles on public health and served on the Florida State Board of Public Health. He collected materials dealing with medicine, malariology, and other branches of science.
Boyd's malaria research often required travel to foreign countries, which stimulated his interest in Spanish colonial history, especially the settlement of Florida. Based on original historical documents he collected and other sources, Boyd wrote several articles, published in the Florida Historical Quarterly, as well as a book, Here They Once Stood; the Tragic End of the Apalachee Missions (1951). He served as president of the Florida Historical Association and as historian of Florida National Parks.
In addition to these pursuits, Boyd studied astronomy, ecology botany, and other fields, recording observations and compiling published information on these topics.
Content and structure elements
Scope and content
The Mark F. Boyd Collection contains materials relating to Florida and United States history as well as to natural history and medicine.  The collection, arranged in six series, includes maps, newspapers, prints, photographs, pamphlets, original documents, copies of historical documents, reprints of articles and other materials.
System of arrangement
SERIES I: HISTORICAL DOCUMENTS contains original documents, dated 1755-1933, and reproductions of letters, manuscripts and other materials, dated 1493-1953.  Arranged chronologically, the original documents contain letters, deeds, military requisitions, sheet music, original drawings, photographs, and other materials. Correspondence relates to the Civil War and to the Seminole War. The letters of Thomas Edison, Harriet Beecher Stowe, Revolutionary and Civil War officers, and other prominent individuals appear in this Series.      
A letter from Revolutionary War Captain Thomas Wooster to his wife Lydia discusses the settlement of the Territory of Florida. Writing from his post in St. Augustine in December 1789, Wooster awaits the arrival of the new governor who "will bring full instructions for the settlement of this country."  His letter states that "There are fifty thousand dollars in the treasury here for that purpose and the secretary has informed me that there is to be the same sum allowed yearly ...until the Country is properly settled." (box 1, folder 4)
Correspondence relating to the war against the Seminole Indians  includes a letter by James Gadsden who served as "aide-de-camp" to Jackson in the War of 1812, member of the Legislative Council of Florida Territory in 1824 and Minister to Mexico in 1853.  Gadsden writes to the Secretary of War J.R. Poinsett, recommending Henry Stevens for a post in the Navy Department: "The recent death of a Midshipman ...has occasioned a vacancy which cannot be better filled than by a youth of so much promise and the son of an old naval officer who has been lost to his family by the horrid savage war devastating this territory." Gadsden's letter of January 1838 also details the recent events of the war. (box 1, folder 19)   
In another letter relating to the Seminole Indian War, dated 1817,  R. Arbuckle at Fort Scott writes to Major General Andrew Jackson reporting on his current military situation and supply of rations. He writes that "Nearly every Indian South East of this, is at war with the United States" and "they have among them several hundred negroes, who are armed and fighting with them."  In his estimation, "The present war with those indians ...will require a much greater force than was anticipated to bring it to a speedy and favorable termination."(box 1, folder 7) Arbuckle's letter of 1818 to the Secretary of War reports on the state of affairs in his quarter and delays in receiving rations. (box 1, folder 8) The letter of B. Ingraham to his Sister Mrs. Susan Fisker provides an additional brief account of the war in 1836.(box 1, folder 11)
J.J. Wescott's letter of 1831 reports the return of a "fugitive from justice in this territory" and describes the legal fees and reward due his captors in Alabama. (box 1, folder 9) Correspondence between John Crittenden, senator and U.S. district attorney, and William P. Duval involves Florida state politics and appointments.   Harriet Beecher Stowe comments on life in Florida in a reply to Henri Gerard, editor of The Comet.  Stowe's letter and the April 1871 edition of the publication appear in this series.  Photographs include one of Stowe and another of "Residence of Professor and Mrs. H.B. Stowe, with Family Group." (box 1 ,folder 32)
A letter from Henry Albert, Commissioner of Iowa State Department of Health, requests that Thomas Edison confirm the rumor that he sleeps only five hours per night.  The 1927 letter contains Edison's reply--an estimate of the few hours he sleeps and an explanation: "...as the sleep was very profound without dreams  and a life habit" it equaled "7 hours with the average man."  Newspaper clippings, dated 1930-53, pertaining to Edison and his son appear with the letter. (box 1, folder 37)
Three original pencil drawings by John Rogers Vinton, a United States army captain, include "Osceola at Lake Monroe during Armistice May 1837,"  a "Light House at Key Biscayne," and an "Indian Mound at Fort Taylor, St. John's River, Florida." A letter from Vinton to Captain J. Rhette Motte, dated 1840, describes the three sketches in the series.  "The first is a view of the country around Fort Taylor on the upper St. Johns, embracing an Indian mound there on top of which, our troups built a small block house.  The second...the Lighthouse at Key Biscayne in which several persons were besieged by the Indians, ...the third is the sketch of the Old Barracks at St. Augustine, the former nunnery..."(box 1, folder 23)  Other SERIES I photographs document the destruction of Miami and Miami Beach resulting from the 1926 hurricane.
Historical reproductions include typescript copies, as well as photostats and photocopies of documents, and prints and negatives.  These materials relate to the Spanish settlement of the Americas, Native Americans and their interaction with the Spanish, the history of South Carolina, Georgia and the provinces of East and West Florida during the colonial period.  
Copies of correspondence, journals and other documents relate to Spanish settlement of Florida.  Catholic Church catechisms in Spanish and Timucua dating from 1612 and other materials document the missionary aspects of settlement.  A translation of a Spanish document of 1676 records Native American customs including their method of naming their children, games they played and other practices. (box 3, folder 64)
Materials deriving from the "Study of a letter in the Apalachee Language" by John R. Swanton contains a copy of an Apalachee letter dated 1688 as well as a translation and notes on the language (box 3, folder 65).  Other works by Swanton include a copy of "Grammatical notes on the Timucua Language," (box 4, folder96) and "Religious works in Spanish and Timucua," annotated by John R. Swanton (box 5, folder 107)
Prints, slides and negatives includes reproductions of Vinton's drawings as well as artwork of others.  Copies of Vinton's sketches of Osceola appear among the prints.  Another print of Osceola, which is undated, and a color slide of a portrait, attributed to Vinton, both appear among the historical reproductions.  Other prints in this series include illustrations from a book, The Territory of Florida..., dated 1837. These items include a print and negative of Fort Mellon, Lake Monroe and a print and negative of St. John's River and Volusia.  Additional items in this series include a print of a portrait of Osceola by Robert John Curtis, and several from  "The American Anti-Slavery Almanac," dated 1839. 
Slides and prints of Florida Coast and Anastasia Island (box 3, folder 72) include a color print of the Florida Coast published by Currier and Ives as well as "Destruction of a Rebel Salt Factory, on the Coast of Florida, by the Crew of the United States Bark 'Kingfisher.'"  The sketch, made by an officer, appeared in Harper's Weekly, November 15, 1862.  Other prints include one of Coquina Quarry on Anastasia Island and another of General Grant, Governor of East Florida.
Other prints and photographs include a print of Princess Catherine Murat and two prints which illustrated the German edition of "Letters and Journals relating to the American Revolution." (box 4, folder 94) Photographs relating to the Battle of Natural Bridge include photos of the battle site and of General William Miller.
Historical reproductions also include notes, maps, and sketches of artifacts compiled by James Clarence and H.H. Simpson based on a 1933 exploration of Indian mounds in the Wacissa River region. (box 5, folder 106)  Several copies of Rebecca Phillip's column "Through Our Window," published June 12-July 10, 1936 in The Jackson Floridan contain articles on Jackson County history. Reproductions of early diaries, travel logs, manuscripts and other writings are also arranged in this series.
SERIES II: RESEARCH FILES, listed in alphabetical order by type of record, consist of correspondence, maps, notebooks,notecards, notes, and other materials.  Correspondence involves research projects conducted for various organizations as well as Boyd's historical and scientific studies.  In correspondence relating to historical research,  Boyd explains that "Much of my leisure is now occupied in studies in local history, and I am at present occupied in learning something about a newspaper called the'Peoples World' once published in Sneads." (box 6, folder 114) Other correspondence concerns scientific research and the sketches of J.R. Vinton.  A copy of Vinton's letters, background information on Vinton and his sketches, and other correspondence dated 1948-52 appears in this series.
Maps in this series reveal the locations of Spanish Forts in Florida and show "Approximate Seminole Indian Sites and Paths." Medical notebooks contain published articles based on Boyd's medical research as well as clippings of the newspaper column "Public Health Department" which Boyd, the City Health Officer, edited for the Okaloosa Daily Herald.  Other notebooks contain notes on a variety of subjects including orchid cultivation, model building, and methods of air analyses.
Notecards (Boxes 8-23) consist of cardfile boxes of bibliographic references to works on United States, Central and South American history, Florida, and notes on Seminole and Creek Indians.  Other file boxes contain cards on the Timucua vocabulary with English and Spanish translations.  Notes include Boyd's research on art and music, family history, Florida and United States history, Malaria, and "field ecology."  Boyd's investigation of the history of the Marine Hospital at Fort St. Marks appears in this series, with an article on the site published in Florida
Southern University's "Notes in Anthropology."  Prints and negatives of St. Marks, which served as the federal hospital for sailors until the time of the Civil War, are included in the series.
SERIES III:  ARTICLES, REPRINTS AND WRITINGS arranged alphabetically into abstracts, articles, reprints, reports and other writings, includes scientific topics, articles on Plains Indians and on Florida history.  Historical writings include papers on the Tampa Bay hotel, Martello towers at Key West, and Florida's first legislators.  Lectures concern the field of entomology. Numerous reprints of Boy's articles on Malaria appear in this series in addition to a special edition of the National Malaria Society bulletin covering the presentation of the silver service award to Boyd in 1947.  The publication details Boyd's contributions to the field.  Boyd's manuscript entitled "Malaria"and Rockefeller Foundation International Health Division Papers, published by the Station for Malaria Research, also document Boyd's accomplishments in malariology.  The Rockefeller Foundation Papers date from 1924-46, the years which Boyd directed the station.   
Card catalogue entries, arranged alphabetically by subject, as well as others, by title and author, provide a listing for the majority of reprints. The reprint articles consist of four numerical series. "Reprints #9" contains historical and anthropological articles on Florida during the colonial era. "Reprints #11" and "Reprints #12" pertain to Florida and United States History.  "Reprints #12" also includes natural history. "Reprints #13" appears to cover many aspects of early Florida, such as natural history, industry, and other topics.  Scientific writings predominate in "Reprints #14."
SERIES IV: MISCELLANEOUS includes materials relating to Florida history, tourism and research collections.  Bibliographies, catalogues and lists of Florida book collections appear in this series.  College bulletins, bus and railroad timetables, pamphlets on historical sites and commemorative events, political campaign materials, brochures describing Reconstruction Finance Corporation projects in Florida, postcards, an early newspaper Orange Park Florida and other materials appear in this series.  Political pamphlets relate to the campaigns of Napoleon B. Broward, Leroy Collins and Fuller Warren.  Postcards include several from Reno, Nevada, from historical sites, from the 1926 hurricane and others of Seminole indians.  Newsletters, directories and correspondence from several organizations including the Florida Anthropological Society and the Committee on Military Medicine are also included.
Additional files contain newspaper clippings, correspondence, biographies, notes and articles obtained from the estate of Mary Lewis. Newspaper clippings from the Tallahassee Democrat dated 1927-48 relate to Florida history.  A political advertisement for Albert Gilchrist's 1915 senate campaign and a copy of the Tallahassee Manor News covering local real estate trends also appears among these clippings.(box 45, folder 301)  Brief biographies and articles written by Lewis describe prominent historical figures, events and buildings in the Tallahassee area.(box 45, folder 303)
Lewis attempted to gather data on Florida writers through correspondence, and responses from Benjamin Harrison and Anne McQueen are included in files.  Harrison, a writer and editor for the Palatka, Pensacola, and Jacksonville papers refuses to provide information, preferring to "rest (his) future reputation" on his work for these papers, especially on his coverage of the "Call controversy."  "Don't you see," he writes, "that the controversies in which I have engaged have passed into history, the decision has been rendered and, even if I could send you a collection dealing with such matters it could serve only to revive unpleasant feelings...?" (box 45, folder 302, Aug. 26 1924)  In another letter, Harrison provides Lewis with a history of the "flags which have floated over Florida."
SERIES V: MAPS, contains an important collection of original and photocopies of rare and unusual maps relating to Florida. Boyd annotated many maps for his own research purposes.
SERIES VI: FLORIDA PROMOTIONAL MATERIALS, contains a group of promotional materials, including brochures published by local Chambers of Commerce, government agencies, transportation companies, and other organizations concerned with attracting permanent settlers and seasonal visitors to Florida.  These materials date from the late 1880s through the early 1960s, bulk dates for the series span the thirty-year period from 1930 to 1960.
A total of 591 brochures are arranged alphabetically by city, county, or park.  The brochures represent a large and varied number of tourist attractions, hotels, colleges and universities, businesses, industries, and parks.  Of particular interest are Chamber of Commerce brochures promoting the social, economic, and recreational advantages of cities and towns along major thoroughfares throughout the state, from the Florida panhandle to the Florida Keys.  Brochures are printed on one or both sides of a single sheet and vary in size from postcards to folded maps, newspaper advertisements and posters.  Many brochures contain colorful illustrations that depict a variety of themes relating to cities, counties, and specific tourist attractions (Edison Winter Home, Fort Myers), major Florida industries (citrus and cattle ranching), and natural resources (beaches, lakes, and parks).
The series does not contain brochures relating to tourist attractions that developed after the Library acquired the Papers in 1959.  However, the collection does contain interesting samples of promotional materials on older tourist attractions including Marineland, Weeki Wachee Springs, and Silver Springs.  A small number of defunct tourist attractions are represented, including Oriental Gardens in Jacksonville, Florida.   Important subjects documented by the promotional materials include: beaches, cities and towns, hotels, parks, real estate and land development, tourist attractions, and travel (river cruises and cruise ships, rail and bus routes).
Conditions of access and use elements
Conditions governing access
This collection is open for research.
Physical access
Parts of this collection are kept in an off -campus storage facility. Please contact Special Collections at asc.library@miami.edu with the boxes you are interested in prior to your visit, and allow up to 1 week for delivery of materials.
Conditions governing reproduction
Mark F. Boyd Collection Finding Aid© 1993 University of Miami. Requests to reproduce or publish materials from this collection should be directed to
asc.library@miami.edu
.
Languages of the material
Language and script notes
Generated finding aid
Acquisition and appraisal elements
Immediate source of acquisition
Appraisal, destruction and scheduling information
Related materials elements
Existence and location of originals
Existence and location of copies
Related archival materials
Notes element
Alternative identifier(s)
Description control element
Digital object metadata
Mime-type
application/pdf
Uploaded
May 18, 2018 2:47 PM
Digital object (Master) rights area
Digital object (Reference) rights area
Digital object (Thumbnail) rights area