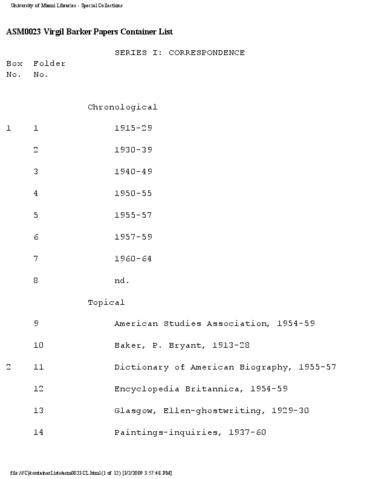 Identity elements
Name and location of repository
Level of description
Collection
Title
Virgil Barker papers
Name of creator
Biographical history
Art critic and historian Virgil Barker was born in Abingdon, Virginia, in 1889. He attended the Bordentown Military Institute, Harvard University and the Corcoran School of Art. Barker began his professional career in 1919, serving as special assistant for the biennial exhibitions at the Corcoran Gallery in Washington D.C.
At the Carnegie Institute in Pittsburgh, he held the position of Curator of Paintings, and in 1920 he became director of the Kansas City Art Institute.
Following this period of museum work, Barker began writing art history and criticism. He joined the editorial board of The Arts, serving as associate editor and later as contributing editor. Working as an art critic in New York during the 1920s, Barker "came to know well many of the many important American painters who gravitated toward Alfred Stieglitz and Gertrude Vanderbilt Whitney
and whose works dominated American painting between the two wars."
During 1925-26 Barker acted as foreign editor, travelling through Europe to cover exhibitions. The Arts, which ceased publication in the late 1930s, remains a significant record of the art and art
criticism of this period.
In 1931, Barker joined the University of Miami as a professor of art. Praised as a great scholar and superb lecturer, he became a popular teacher. Barker remained at the University for twenty-
eight years and promoted the visual arts in greater Miami and the University. Barker wrote several reviews for the Miami Herald as well an article on the art of Vizcaya. In addition to teaching, he
served as a trustee at the University of Miami and played an instrumental role in the establishment of the Lowe Art Gallery, serving as its first director in 1950. In 1951 the University recognized Barker's scholarship awarding him the honorary Doctor of
Letters degree. Barker's reputation as a scholar and teacher also led to his appointment by the Carnegie Foundation to an American Studies committee in 1956. Barker's responsibilities included selecting slides and writing text on colonial American painting for art history courses.
Barker also contributed to the knowledge and interpretation of American art through his writings. Barker served on the editorial boards of The Arts and The Art Bulletin, Art and Archaeology, The
Magazine of Art, and Art in America. He contributed articles and reviews to Art in America, The Magazine of Art, The Yale Review, Saturday Review, and other magazines. Barker's first book Pieter Bruegel, the Elder, published in 1926, was the first work on Bruegel written in English. In 1931 Barker published a monograph on Henry Lee McFee as well as A Critical Introduction to American
Painting.
Barker travelled throughout the United States for ten years, surveying paintings in museums and private homes for his next book, American Painting: History and Interpretation, published in 1950.
The work, which presents American painting within its historical context and includes original interpretations, received favorable reviews. Author, critic and museum director Lloyd Goodrich
described the work as "...the best history of American painting so far written...it will be the definitive work in its field for a long time to come."
Barker's final work, From Realism to Reality in Recent American Painting (1959) contains a series of Barker's lectures. He also wrote numerous biographies of American painters for the Dictionary of American Biography, and Arts of the United States, as well as articles on Colonial American painting and John Singleton Copley for the Enyclopedia of World Art. Barker was a member of
the College Art Association, and Association Internationale D'Art. The University of Miami Lowe Art Museum organized the Virgil Barker Memorial Collection of American Paintings following Barker's death in 1965, and numerous friends and colleagues donated to the collection.
Content and structure elements
Scope and content
The Virgil Barker Papers document the career of an influential critic and historian, and provide a interesting record of American art history from 1920-60.  The papers contain Barker's writings on art history, American culture, literature, his own life and critical perspective, the post-World War I generation and other topics.  In addition to Barker's writings and correspondence, programs from European and American art exhibitions, newspaper and magazine clippings, prints, sketches and other materials appear among the papers.
System of arrangement
SERIES I: CORRESPONDENCE, arranged chronologically, relates to Barker's professional positions including his work as editor of The Arts magazine, as University of Miami professor of art history, and as director of the Lowe Art Gallery.  Letters also involve inquiries by museums, universities and collectors on various works of art, student recommendations and letters praising Barker's classroom lectures and correspondence with family and friends. Correspondence with critics and scholars concerns art history and Barker's writings.  Prints of paintings and photographs of sculptures are included in the files.
Letters dated 1915-30 concern Barker's work in museums and reviews of the work of artists Alfred Stieglitz, Allen Tucker, Henry Lee McFee, and others.  Correspondence dated 1920-24 relates to a biography of Abbott Thayer and includes copies of Thayer's correspondence and other papers dated 1876-1905.   Barker's review of the work of P. Bryant Baker is documented in letters from 1913-20, clippings, photographs of Baker's sculptures and exhibition programs. 
Correspondence also contains critics' evaluations and artists' responses.  Letters from Henry Van Poon express approval of Barker's review: "It really is a great pleasure to me to have such a sympathetic and intelligent write up." (January 11, 1924)  Allen Tucker writes "I am very much complimented that you should think of writing anything about my work.  And as you probably know I have a high opinion of your opinion."
Letters from Alfred Stieglitz concern Barker's reviews of his work, and Barker describes the beginning of his association with Stieglitz: "There came a time for me to write a piece about John Marin, and the necessity of seeing a lot of his pictures led me to having sessions with Stieglitz behind the scenes, so as to say, and after the hours of the regular gallery performances.  At these times he was no less the prophet, but the stream of verbiage was interrupted by stretches of silence in which he apparently listened to me or even allowed me to listen to the pictures.  From this basis, my curiosity and respect, together with his tolerance for my immaturity, brought several dinners and evenings back and forth between O'Keefe and Stieglitz, my wife, and myself." Stieglitz personality influenced Barker, as later writings reveal, and Barker appreciated Stieglitz's work.  In contrast to other critics, Barker respected photography as a form of art. Steglitz's wrote that one critic "just doesn't see" while another "isn't 'sympathetic, " and described criticism  as "a great and rotten game everywhere." Barker wrote a favorable review of Stieglitz's controversial cloud images: "Can a photograph be a work of art? An entire number of that unperiodical periodical entitled Manuscripts was devoted to a symposium on that question.  And all those words by all those writers, whether for or against, are turned into empty chatter by the wordless sky-songs of Alfred Stieglitz.  To one individual they came as a revelation -- a call to adventure, an enlargement of experience, a spiritual release. A perceiving soul had trapped sublimity in a machine and on sheets of paper a hands breath wide has fixed immensity."
Other letters relating to The Arts cover trends and exhibits in Europe.   Letters from Barker dated 1925-26 provide a record of his experience as European editor, while several from Lloyd Goodrich, also an editor of the arts, discuss Paris in 1927. Letters include correspondence with Miami artist, and Barker's personal friend, Theodore Spicer-Simson.  In a series of letters, T.S. Eliot declines Barker's invitation to publish his comments on the visual arts. 
Among the remaining correspondence, arranged topically, are letters concerning a request to "ghost write" an introduction to "A Memorial Volume of Virginia Historical Portraiture, 1585-1830." Author Ellen Glasgow agreed to serve as the "distinguished Virginian" who authored the introduction, provided the material was "prepared."  As correspondence, copies of the manuscript and an article entitled "Ghosting for Ellen Glasgow" reveals, Barker acted as the "ghost," writing the material which Glasgow altered "to make it more her own." Correspondence relating to articles for the Dictionary of American Biography and  Encyclopedia Britannica includes questionnaires, iographical data and  articles. 
SERIES I also includes materials from publishers, University of Miami memos, materials relating to the Lowe Art Gallery and articles written for a university library publication, The Carrell.
SERIES II: WRITINGS includes several articles on American painting. "On Being Released From School" concerns Barker's views on teaching and his desire to write an autobiography. Clippings and copies of articles and reviews from The American Magazine of Art, The Arts, The Saturday Review of Literature, Yale Review and other magazines and newspapers also appear in this series.  Books in SERIES II include the bibliography, post script and appendices for "American Painting" as well as a partial manuscript of "Old Bruegel: the Biography of a Mind."  An outline, observations on the progress of the work, research, interpretations of Bruegel's works, a catalog of works and exhibition programs also relate to Barker's work on Bruegel. 
A series of 37 lectures, dated 1952, focuses on the history of American art.  A lecture "Among the Survivors Are..." given at Sarasota in 1958 describes Barker's place within the art world: "I have not been a doer but a watcher...American paintings have been my main means of sharing in the life of my time."  Barker's "Contemporary American Painting: A Survey" dated 1925-26 appears among "miscellaneous writings."  Barker wrote this article in Nice, France, as a "contribution...to the 'literature of discovery' which is helping to bring about a greater measure of cultural self-consciousness and effectiveness." This work reveals Barker's identification with "Gertrude Stein's Lost Generation." Also included in miscellaneous writings are "The Continuation of Impressionism," "Opening for an article on Reynolds," and "Introductory Ideas" for other writings.
Notes relate to research on art and artists, but include autobiographical writings and analyze influential relationships. Notes on M.F. Barker include remarks on family history recorded by Barker's mother. Mrs. Barker wanted her son to become a preacher and opposed his move from the family-run seminary in Virginia to become an art critic in New York.  Notes dated 1924-40, describe conflicts, and a letter to his mother written almost 30 years after her death reveals the impact of this relationship.
Autobiographical writings also relate to Barker's relationship with his wife, Ida, who served as traveling companion, proofreader, editor and fellow art critic.  Since Virgil Barker was handicapped by partial deafness, Ida also provided Virgil with information he missed in conversations.  In "a letter to my wife Ida" Barker writes that "you saved my life in a physical sense you also saved my soul in becoming for me a bridge to the comprehension of life and art and many people."
Autobiographical writings arranged in chronological order concern various experiences--attending school, teaching at his parents' seminary, working as a museum director and becoming an art critic.  Other files organized under topical headings relate to artists and critics, books, public men and works of art.  Barker's diary and "notes from the Diary of Bessie Mallicote" document his trip to Europe 1925-26. Notes are also organized into chapter headings for a work entitled at various stages "Another Book," "Another Autobiography with Notes on Artists in My Time" and "One More Man's Autobiography with Notes on Some Art and Artists in My Time."  Notes also provide a motive for these writings: "I believe that all I am after is self-discovery.  ...I want to explore myself by writing myself out; and so strongly do I want to do this that I am willing to do it even if no one else is ever interested.  Of course, I hope that I can make something printable of it, but that is not absolutely necessary for my happiness.  The only necessary thing is self-discovery."
A diary, address book and calendar pages contain addresses of museums, collectors and galleries, records of exhibits, schedules and other notes.  An outline on American studies provides Barker's views on areas in need of exploration, methods of stimulating research in the field and recording of scholarship. Miscellaneous notes include domments on criticism, Florida,  and other topics as well as excerpts from books on art, novels, reviews and other sources.  Notes on art include Barkers comments--quotable material on art, architecture and individual artists. 
Notes on art styles include brief introductions on such as neo-Romanticism, surrealism, regionalism, as well as on topics such as mural painting, illustration as an art form, portrait and landscape painting and others.  Each topic also includes biographical and critical notes on representative painters.
Clippings and quotations from other critics and historians appear among the files. Notes on artists include research as well as comments on contemporaries. Notes on Picasso include an outline for a lecture given by Barker in 1957, quotes from the artist and Barker's interpretations of Picasso's work.  Notes on Leonardo da Vinci also include a lecture prepared by Barker.  A manuscript entitled "Dalinese" appear among notes on Salvador Dali, which date from 1941-43.   Notes on other artists, consisting of clippings, quotations, and original interpretations, cover the lives and works of Abbott Thayer, Seurat and Renoir,  and Samuel Earl Fraser. Extensive research on John Singleton Copley includes notes, exhibit programs and clippings. Biographical and critical notes on Whistler also appear in this series.
Notes also include information on miscellaneous individual painters and groups of painters, such as the "Immaculate" and abstract painters.  Lists derived from Dictionary of American Biography, Notable American Women, and other sources, as well as reproductions of works and clippings on artists comprise notes on women painters. Notes on Stieglitz reveal Barker's interest in this artist whom he considered "the most impressive personage I ever known." Notes include observations on Stieglitz and "The Photographer," "The Prophet" "The Editor" and "The Dealer." Quotes, clippings dated 1946-52, and an announcement for "The Intimate Gallery Exhibition February 28-March 27 1928" are included in these files.  In "Stieglitz: A Partial Portrait" Barker considers several issues--the place Stieglitz should occupy in American art; the power of his personality; and his influence over the circle of artists Barker referred to as the "disciples." 
Copies of letters, articles and Barker's responses to art critics 1916-60 appear in notes on critics.  Notes include comments on critics Bernard Berenson and Herbert Read as well as clippings of their reviews, annotated by Barker.  Notes on public men contains an unfinished draft of "Public Men in Public."  Among the notes for writings are research, outlines and ideas for "An Essay on the Essay," and "Three Paintings of Danger," as well as the books "America Painting" and "American Painters in My Time." Notes on fiction include ideas for stories, and  "The Shattered Dream" a story dated 1922.
Lists provide a record of Barker's writings.  A series of lists reveal the painters selected for art surveys, and highlight artists contributing to a "Revolution in Subject" or "Revolution in Form."  Notes for the University Community Report relate to a University of Miami "community planning" committee.
SERIES III: TOPICAL FILES/MISCELLANEOUS MATERIALS contains postcards, photographs and clippings pertaining to the Chevy Chase area and to the Chevy Chase College and Seminary, directed by Barker's parents. Barker's report cards, school records and writings for the Bordentown Military Institute newspaper "The Skirmisher" also appear in this series.  Programs, postcards, and photographs from 1909-11 focus on Barker's years at Harvard and a trip to Europe.  Catalogs, calendars, yearbooks, newspaper clippings, and other records document activities of the Chevy Chase College and Seminary 1904-17.  Alumnae records reveal that the girls' school drew students from around the United States as well as from Cuba, Mexico, China and other countries.  Barker taught for a brief period, and class records appear among the files.
Art exhibition programs, newspaper clippings and quotes from letters regarding The Arts relate to Barkers activities from 1917-27.  During this period Barker acted as curator and director for various museums, ccepted the position as editor of The Arts in 1920 and wrote articles an art history, and also lectured and composed the text for gallery programs. Clippings dated 1922-25 pertain to Barker's lectures and include reviews of Pieter Bruegel, The Elder.  Prints and drawings in this series include lithographs, a drawing by Arthur B. Davis, and other works.  Interviews include questionnaires in addition to printed interviews from periodicals, newspapers and University of Miami publications.  Articles provide biographical information as well as Barker's opinions on issues such as the function of art in society, the definition of art and his role as an art historian. Clippings include reviews of Barker's writings and lectures, magazine articles on art criticism 1921-60, and art and book reviews dated 1922-63 and other articles.
Conditions of access and use elements
Conditions governing access
This collection is open for research.
Physical access
This collection is kept in an off-campus storage facility. Please contact Special Collections at asc.library@miami.edu with the boxes you are interested in prior to your visit, and allow up to 1 week for delivery of materials.
Conditions governing reproduction
Virgil Barker Papers Finding Aid© 1993 University of Miami. All rights reserved. Permission to publish materials must be obtained in writing from the Head of Special Collections.
Languages of the material
Language and script notes
Generated finding aid
Acquisition and appraisal elements
Immediate source of acquisition
Appraisal, destruction and scheduling information
Related materials elements
Existence and location of originals
Existence and location of copies
Related archival materials
Notes element
Alternative identifier(s)
Description control element
Access points
Subject access points
Genre access points
Digital object metadata
Mime-type
application/pdf
Uploaded
May 18, 2018 1:22 PM
Digital object (Master) rights area
Digital object (Reference) rights area
Digital object (Thumbnail) rights area