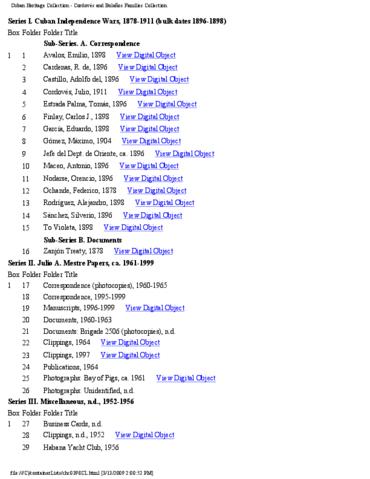 Identity elements
Name and location of repository
Level of description
Collection
Title
Cordovés and Bolaños Families Collection
Name of creator
Biographical history
Julio Angel Mestre is an exiled Cuban economist who was born in Havana, Cuba in 1935. He is the son of Aida Margarita Cordovés Bolaños and Juan José Mestre Miyares and grandson of Julio Cordovés y de la Paz and Isabel Bolaños Fundora. The Cordovés and Bolaños families were involved in Cuba's Wars of Independence against Spain. Rosario (Charo) and Encarnita Lastra, great-aunts of Mestre, were members of the Cuban Liberation Army (Mambises) within the brigade headed by José María Aguirre, Chief of the Division of Havana, and served under Generalísimo Máximo Gómez.
Mestre studied at the Colegio de la Salle in Havana and graduated with a degree in economics from the Universidad Católica de Santo Tomás de Villanueva in 1957. He served as number 3195 in the Brigade 2506 during the Bay of Pigs Invasion of Cuba in 1961. Later, he worked for Union Panamericana in Washington, DC (1963-1965), for CBS/Time Life (1965-1968), and for Kodak Corp. in Venezuela (1968-1972). Mestre established private businesses in Venezuela, Santo Domingo, and Madrid. He and his wife, Sandra Teresita Caballero, have two sons. After residing for many years in Venezuela, Mestre now makes his home in the United States.
Name of creator
Biographical history
Tomás Estrada Palma was born in Bayamo, Cuba on 9 July 1835. He studied law, and joined the rebel forces during the revolution of 1868-1878. After nine years of service, he was captured and imprisoned in Spain until the end of the insurrection. After his release, he went to Honduras, where he became postmaster of the republic. Later he moved to the United States and opened a school for Latin American students at Central Valley, New York. With a new revolt in Cuba in 1895, Estrada Palma was elected delegate-at-large and minister plenipotentiary of the Republic of Cuba in arms and took charge of the well known council in the United States which purchased arms, organized filibustering expeditions and otherwise aided the army in the field. In 1901, he was elected president of the Cuban republic and was inaugurated on 20 May 1902. On 23 September 1905, he was again elected to the office of president but resigned 28 September 1906. Estrada Palma died on 4 November 1908 and is buried in Santiago de Cuba.
Content and structure elements
Scope and content
The Cordovés & Bolaños Families Collection contains letters, clippings, documents, and photographs from Cuba's Wars of Independence and the Bay of Pigs Invasion.
The collection contains materials from the Cuban Wars of Independence, including signed letters from famous Cuban statesmen of the period. A separate series contains articles and photographs relating to the Bay of Pigs invasion, as well as photos of Fidel Castro in a meeting with Pedro Tinoco, then-president of the Central Bank of Venezuela. The third series contains genealogical materials, namely photographs, family trees, and investigative research for the Bolaños, Cordovés and Mestre families.
System of arrangement
The Cordovés & Bolaños Families Collection is organized into three series: Series I, Cuban Independence Wars; Series II, Julio A. Mestre Papers;  and Series III, Genealogical Materials.
Box 3 contains preservation copies of fragile materials. Part of this collection has been digitized and is available on the University of Miami Digital Collection website.
Conditions of access and use elements
Conditions governing access
This collection is open for research.
Conditions governing reproduction
Requests to publish or display materials from this collection require written permission from the rights owner. Please, contact
chc@miami.edu
for more information.
Languages of the material
Language and script notes
Generated finding aid
Acquisition and appraisal elements
Immediate source of acquisition
Gift of Julio A. Mestre, 1994 and 1999
Appraisal, destruction and scheduling information
Related materials elements
Existence and location of originals
Existence and location of copies
Selected materials from this collection have been digitized.
Related archival materials
CHC0460 Tomás Estrada Palma Collection
CHC Pamphlets Collection No. 12: Cuban Independence Wars
CHC0347 Cuban Manuscripts Collection
Selected published materials in CHC and/or the University of Miami's Otto G. Richter Library:
Tomás Estrada Palma:
Collazo, Enrique. Desde Yara hasta el Zanjon; apuntaciones historicas . Habana: Tip. de "La Lucha," 1893.
Corzo Pi, Daniel.
Historia de Don Tomás Estrada Palma [microform], su juventud y estudios, revolucionario y delegado, presidente de Cuba, ultimos años de una vida laboriosa en la miseria, espistolario, documentos . Habana: Impr. de Diaz y Castro; Guantanamo: Medano y Ricardo, [193-?].
Cuba. Departamento de Estado. Documentos internacionales referentes al reconocimiento de la república de Cuba. 1904 . Habana: La Moderna Poesía, 1904.
Estrada Palma, Tomás. Mensaje del presidente Tomas Estrada Palma al congreso de la República de Cuba al inaugurarse la 2 legislatura de 1904 . Habana: Imprenta, Papeleria y Encuadernación de Rambla y Bouza, 1904. [Signed by Tomás Estrada Palma]
Iznaga, R.
Tres años de república, folleto político, por R. Iznaga Tomás Estrada Palma El gobierno y la administración pública desde 1902 á 1905. El estado actual del pueblo cubano. Por la paz y por la república . Habana: Rambla y Bouza, 1905.
Martínez Ortíz, Rafael. Cuba, los primeros años de independencia . Paris: "Le Livre libre," 1929.
Carlos J. Finlay:
Amaro Méndez, Sergio. Alas amarillas: la historia de Carlos J. Finlay y su descubrimiento . Havana: Editorial Científico-Técnica, 1983.
Cuba. Ministerio de Salud y Asistencia Hospital. Dr. Carlos J. Finlay and the "Hall of Fame" of New York . Havana, 1959.
Finlay, Carlos E. Carlos Finlay and Yellow Fever . New York: Oxford University Press for the University of Havana, 1940.
Portell-Vilá, Herminio. Finlay: vida de un sabio cubano . Miami, FL: La Moderna Poesía, 1990.
Ramos, Domingo F. Cuba en la higiene internacional y Finlaismo . Havana, Imp. La Propagandista, 1924.
Rodríguez Expósito, César. Carlos J. Finlay, 1833-1915 . Havana: Departamento de Relaciones Nacionales del Ministerio de Salud Pública, 1965.
Máximo Gómez:
Bosch, Juan. Máximo Gómez, de Monte Cristi a la gloria, tres años de guerra en Cuba . Santo Domingo, Dominican Republic: Editora Alfa & Omega, 1986.
Carrillo, Mario. In the Saddle with Gomez . New York: F. T. Neely, 1898.
Castellanos G., Gerardo. Legado mambí; formación, odisea y agonía del archivo del general Máximo Gómez . Havana: Ucar García y cía., 1940.
Céspedes y Quesada, Carlos Manuel de. Un instante decisivo de la maravillosa carrera de Máximo Gómez . Habana: Imprenta "El Siglo XX", 1932.
Gómez, Máximo. Cartas a Francisco Carrilo . Havana: Instituto Cubano del Libro, 1971.
Gómez, Máximo. Revoluciones – Cuba y hogar . Santo Domingo, Dominican Republic: Editora Alfa y Omega, 1986.
Antonio Maceo:
Alonso Pujol, Guillermo. Maceo: discursos pronunciados . Havana: Editorial Publicitas, 1945.
Archivo Nacional de Cuba. Antonio Maceo, documentos para su vida, homenaje del Archivo Nacional de Cuba al lugarteniente general del Ejército libertador en el centenario de su nacimiento, 1845-1945 . Havana, 1945.
Briceño Perozo, Mario. Antonio Maceo: la voz del huracán . Caracas, Venezuela: Talleres de Italgráfica, 1991.
Dorta-Duque, Manuel. Maceo (el soldado): lo peculiar de su vida desde Yara a Baraguá (1868-1878) . San Juan, PR: Ediciones Joyuda, 1982.
Mármol, José G. Antonio Maceo Grajales: El Titán de Bronce . Miami, FL: Ediciones Universal, 1998.
Miró Argenter, José. Muerte del general Maceo, (relato del suceso), seguido de una refutación a la farsa oficial . Key West, FL: Impr. de "El Yara", 1897.
Notes element
General note
Other Information:
This title of this collection was changed in 2001 from the Julio A. Mestre Collection to the Cordovés and Bolaños Families Collection per the donor's instructions.
Alternative identifier(s)
Description control element
Digital object metadata
Mime-type
application/pdf
Uploaded
May 18, 2018 5:27 PM
Digital object (Master) rights area
Digital object (Reference) rights area
Digital object (Thumbnail) rights area