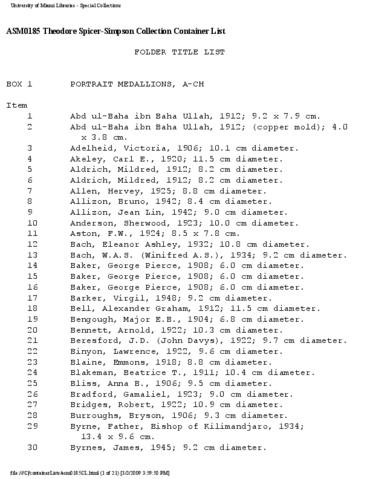 Identity elements
Name and location of repository
Level of description
Collection
Title
Theodore Spicer-Simson collection
Date(s)
1906-1979 (Creation)
1906-1979 (Creation)
Name of creator
Biographical history
Theodore Spicer-Simson was born at le Havre, France on June 25, 1871, the first son of Frederick John Simson and Dora Mary Spicer. His education was in various boarding schools in London, Germany and France. After his graduation, he enrolled in the Ecole des Beaux-Arts in Paris to study sculpture.
In Paris he met Margaret Schmidt and followed her to Washington, D.C. where they were married on July 1, 1896. When the United States entered the Spanish American War in 1899, they moved to Paris where he met and worked with sculptor Jean Dampt. Living in the Montparnasse section of Paris he met many artists and literary figures, many of which were later to be subject of his medallions, including Leo and Ella Mielziner, Henri Monod, James Stephens, and many others.
Many prominent people on both sides of the Atlantic sat for Spicer-Simson, including three United States Presidents. President William Howard Taft sat for him in 1911 for a medallion that was later reduced and used as a campaign button. In 1914 he did a cast of President Woodrow Wilson's right hand which was going to be used in propaganda for wartime with the slogan "Uphold the President's Hand." However, this was never used. Also, President Franklin Delano Roosevelt sat for him for a medal commissioned by the French Mint. He also made a medallic portrait of Ignance Jean Paderewski, a famous Polish pianist, who, between sittings for Spicer-Simson, was chosen the first President of independent Poland, forcing Spicer-Simson to finish the medallion in a hurry.
In 1921 he started work on Men of Letters of the British Isles a volume containing medallic portraits of the prominent writers of England and Ireland of the time. These were to be accompanied by critical essays on each author's work by Stuart P. Sherman. Included among the authors that sat for Spicer-simson were George Bernard Shaw, W.B. Yeats, A.E. Houseman, G.K. Chesterton, and others.
In 1925, during a visit to the United States, he was invited to visit Miami by his old friend David Fairchild. Spicer-Simson liked Miami so much that, on his return to France, he had a home built in Coconut Grove. During the world-wide depression of the 1930's their Florida home was rented out and they returned to like at a home at les Volets Verts, Bourron, France.
The Spicer-Simsons were in France during the outbreak of World War II. Since Spicer-Simson was of British citizenship, he was arrested in 1940 by the German army which was arresting British nationals living in occupied France. Margaret was not arrested because she was an American citizen and the U.S. was not directly involved in the war at that time. He was released, after spending time in a prisoners' camp, in April, 1941 and remained the rest of the war at Les Volets Verts.
After the war, in late 1946, they were able to return to their home in Coconut Grove. Here Spicer-Simson made a medallion of Robert Frost who was associated with the University of Miami at the time. He remained in the United States until his death in Miami after a long illness on February 1, 1959.
Among the honors Spicer-Simson received during his lifetime, he was named fellow of the Numismatic Association and Recipient of the J. Stanford Saltus Medal of the American Numismatic Society. He was also named fellow of the National Sculpture Association member of the National Academy of Design, and associataire de Salon des Beaux-Arts, Paris. His work is contained in various museums, libraries, and private collections world-wide. Notable among these are a tablet honoring Alexander Graham Bell displayed at the National Geographic Society Building and one honoring Hervey J. Allen on display at the American Museum of Natural History, both in Washington, D.C.
Content and structure elements
Scope and content
The Theodore Spicer-Simson Collection contains the Spicer-Simson medallions as well as photographs, correspondence, typescripts and other related material.
The bulk of the collection consists of the Spicer-Simson medallions. These are portrait medallions cast in bronze of major world and literary figures from Spicer-Simson's lifetime. All of these were sculpted from life. Notable among these are David Fairchild, Padraic Colum, Henry Ford, Sir Ernest Rutherford, Sherwood Anderson, Theodore Dreiser, Franklin Delano Roosevelt, and other important figures in addition to person friends and family members of Spicer-Simson.
The collection contains many other examples of Spicer-Simson medals in the form of medals, awards, and sculptings that Spicer-Simson created. Included in these are medals sculpted for the National Academy of Sciences, Princeton University, the Guggenheim Foundation, and the U.S. Congress. The collection also contains clay and plaster molds of medallions, including some small pieces of sculpture. In addition to all his sculpture and medallions, the collection contains examples of Spicer-Simson's other artwork in the form of sketches, drawings, and bookplates.
Spicer-Simson's autobiography, A Collector of Characters is held in the collection, along with the typescripts of the book. The collection's correspondence includes correspondence from Hervey Allen, Padraic Colum, H.L. Mencken, Eleanor Roosevelt, Sir Ernest Rutherford, and Marjory Stoneman Douglas. The photographs include mostly photographs of medallions and sculpture, including some not in the collection, but also contain many photos of Spicer-Simson's subjects, some of these mounted and autographed.
System of arrangement
SERIES: Portrait Medallions and Sculpture.
Box No. 1-20.
1903-1950.
14.31 lin. ft. 
Arranged alphabetically. 
The oversize medals are arranged by size.  Indexed.
This series contains most of the portrait medallions produced by Theodore Spicer-Simson throughout his lifetime.  Boxes 1-5 contain portrait medallions less than 11 cm arranged alphabetically.  Awards and other assorted non-portrait medallions are in boxes 6-7.  Boxes 8-9 contains oversize medallions cast in metal, while boxes 11-14 contain plaster and clay molds of medallions.  Spicer-Simson's sculpture is held in boxes 15-17 while boxes 19-20 contain drawings
and sketches.  Box 18 is a folio containing an ink drawing and a folio size plaster mold.
SERIES: Book and Typescripts.
Box No. 21.
1950?-1962. 
0.42 lin. ft.
This series contains Spicer-Simson's book A Collector of Characters, and three copies of the typescript for the book.
SERIES: Correspondence.
Box No. 22-25.
1890-1960. 
1.68 lin. ft.
Arranged alphabetically.  Indexed.
This series contains Spicer-Simson's correspondence alphabetized by correspondent.  It includes such notables as Marjory Stoneman Douglas 25(26); Sir Ernest Rutherford, 25(9); Eleanor Roosevelt, 25(5); and Hervey Allen, 22(4).
SERIES: Photographs and Negatives.
Box No. 26-29.
[N.d.]  1.68 lin. ft.
Arranged alphabetically.  Indexed.
This series contains photographs of Spicer- Simson, his sculpture and medallions and also of many of his subjects which he used to complete his medallions.
SERIES: Scrapbook.
Box No. 30.
[N.d.]  0.21 lin. ft.
This series is comprised of one scrapbook of Spicer-Simson containing cutouts, drawings, and photographs of his medals and articles kept by him.
SERIES: Miscellaneous.
Box No. 31-32.
1882-1979. 
0.84 lin. ft.
Arranged alphabetically.  Indexed.
This series is comprised of miscellaneous material including poetry by Lawrence Hockey, 31(27); the American Numismatic Society, 31(2); and Fairchild Tropical Garden, 31(23).
Conditions of access and use elements
Conditions governing access
This collection is open for research.
Conditions governing reproduction
Theodore Spicer-Simson Collection finding aid © 1991 University of Miami. Requests to reproduce or publish materials from this collection should be directed to
asc.library@miami.edu
.
Languages of the material
Language and script notes
Generated finding aid
Acquisition and appraisal elements
Immediate source of acquisition
Appraisal, destruction and scheduling information
Related materials elements
Existence and location of originals
Existence and location of copies
Related archival materials
At the Special Collections of the University of Miami Libraries:
Spicer-Simson, Theodore. Men of letters of the British Isles: portrait medallions from the life, by Theodore Spicer-Simson, with critical essays by Stuart P. Sherman and a preface by G.F. Hill. New York: W.E. Rudge, 1924. Limited edition of 520 copies. The University Library holds copies 34 and 327. Copy 34 is inscribed on front endpaper to Eddy Hay, a reporter from the Miami Daily Herald, November 19, 1948.
This volume contains the portrait medallions which form the major part of Spicer-Simson's body of work, all sculpted from life. Among the authors included are G.K. Chesterton, A.E. Houseman,, James Joyce, George Meredith, George Bernard Shaw, H.G. Wells, and W.B. Yeats.
Hogarth, D.G. (David George). The life of Charles M. Doughty. London, Oxford University Press, Milford, 1928. This volume has two letters of correspondence from D.G. Hogarth and W.D. Hogarth to Theodore Spicer-Simson in an envelope tipped in on fly front end paper.
Notes element
Alternative identifier(s)
Description control element
Access points
Subject access points
Digital object metadata
Mime-type
application/pdf
Uploaded
May 18, 2018 3:21 PM
Digital object (Master) rights area
Digital object (Reference) rights area
Digital object (Thumbnail) rights area