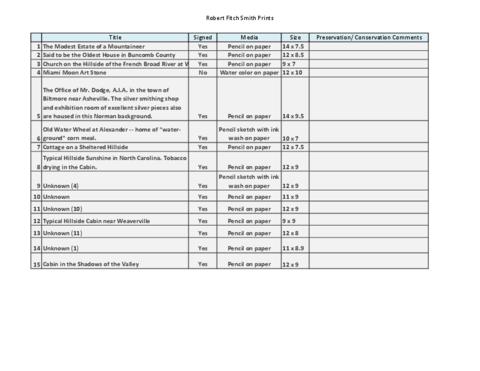 Elementos de identidad
Código de referencia
ARC6400
Nombre y localización del repositorio
Nivel de descripción
Colección
Título
Robert Fitch Smith Papers
Nombre del productor
Historia biográfica
Robert Fitch Smith was born in Fremont, Ohio, July 1, 1894. He attended Columbia University, Carnegie Institute of Technology, The University of Michigan, and the University of Miami, where he obtained his BA degree in 1931 and where he began his architectural practice shortly thereafter. He is credited with the design of civic and residential architecture, churches, schools, industrial and recreational projects. His civic engagement roster includes charter member of the Miami City Planning Board; Director of Coordinating & Planning Committee of Dade County; Chairman of Regional Planning Board of Dade County; Chair of the Miami Fine Arts Commission; Board member of the Inter-American Cultural Trade Center (Interama); member of the American Institute of Architects; member of the Beaux-Arts Institute of New York, He was the Vice-Chairman of the Urban Planning Committee of the America Institute of Architects for the Sourthern area, and a member of the Architectural League of New York.
He died in Miami on June 16, 1964 at the age of 69.
Área de contenido y estructura
Alcance y contenido
Drawings, watercolors, sketchbooks, photographs, personal papers, scrapbooks
Sistema de arreglo
The Robert Fitch Smith papers are arranged in boxes, folders, and flat files.  Content was kept in original folders whenever possible and named accordingly.  Scrapbooks were kept intact as were the majority of Mr. Smith's sketchbooks.  Some folder contents such as lindividual letters, photographs, and clippings have been housed in protective sheets.
Condiciones de acceso y uso de los elementos
Condiciones de acceso
Library Use Only
Escritura(s) de los documentos
Notas sobre las lenguas y escrituras
Instrumentos de descripción
Generated finding aid
Elementos de adquisición y valoración
Historial de custodia
The Robert Fitch Smith Collections were in the posession of his son, Donald Smtih of Coral Gables, Florida, who donated it to the School of Architecture.
Origen del ingreso
Gift of Donald Smith, Son of Robert F. Smith
Valoración, selección y eliminación
Elementos de material relacionado
Existencia y localización de originales
Existencia y localización de copias
Unidades de descripción relacionadas.
Descripciones relacionadas
Elemento notas
Identificador/es alternativo(os)
Área de control de la descripción
Puntos de acceso
Puntos de acceso por materia
Puntos de acceso por lugar
Puntos de acceso por autoridad
Tipo de puntos de acceso
Objeto digital metadatos
Nombre del archivo
arc6400CL.pdf
Mime-type
application/pdf
Tamaño del archivo
65.3 KiB
Cargado
18 de mayo de 2018 13:03
Objeto digital (Ejemplar original), área de permisos
Objeto digital (Referencia), área de permisos
Objeto digital (Miniatura), área de permisos